As reported by Pie Insurance, of the total number of businesses in the United States, 99% are small businesses. This is a staggering statistic that conveys even though the US is home to numerous multi-billion-dollar companies, people from all walks of life are starting a business.
In addition, small businesses play a major role in developing a thriving local ecosystem resulting in an increased standard of living for those in the community.
For budding entrepreneurs, this article will provide an in-depth guide regarding how to launch a local business, engage with your community, and the positive social and economic impacts your business can achieve.
Create a Plan for Starting a Business
Successful businesses have strong foundations, which are a result of in-depth planning, accurate future forecasts, and a strong understanding of the market.
Before diving into the first fundamental steps of launching, be sure you're able to operate your type of venture from your current location. Your HOA, landlord, or local government's zoning laws may have certain restrictions regarding whether you can run your business from where you are.
Once that's settled, to ensure your business follows in the footsteps of other successful enterprises, use these steps:
1. Find a Good Business Idea
The first step is to decide on an idea that you think will work well. Canvanizer explains one way to get your creative juices flowing is to take a pen and free-write all ideas you have in mind. Once you are finished with the list, start eliminating ideas that seem repetitive and have a saturated market.
If you're struggling to get ideas, a stroll around your locality can help you to find areas of interest for your business. For instance, make a note of all the types of businesses already present in your community, which can include a barbershop, a gym, a pet shop, restaurants, and more. Now, list important businesses which are missing, such as:
A marketing firm
House cleaning service
Storage rental services
2. Starting a Business Begins with Research
Once you have a shortlist of options, it's time to research its probability of success. Through your research, you should be able to answer the following questions:
Who is the target audience for your business?
What is the demographic of your audience i.e. income levels, age, purchasing power, and more?
What is the market demand for your product/service, and how much is catered to by competitors?
What customer problem does your product/service solve?
Does your business have any competitive advantage over others?
What are the prevalent price points in the industry?
While you could answer some of these questions through your experience, for others you may need to conduct surveys, interviews, and competitor analysis.
3. Write a Business Plan
Once you have decided on an idea and product offering, it's time to put all that into writing in the form of a business plan. A good business plan will cover all aspects of your business such as:
Mission
Vision
Pricing strategies
Short & long-term goals
Marketing strategies
Funding requirements
If you plan to seek any external funding, from investors or lenders, a strong business plan is a necessity. Additionally, it will also serve as a roadmap for your business, helping you to keep yourself accountable for achieving goals within the set timelines.
4. Starting a Business Requires a Budget
As a new business, keeping costs in check is essential to have a successful launch and sustained growth for the first 12 months. Again, as you explore funding options for your startup, lenders and investors will want to see a well-conceived forecast to determine the level of risk involved in providing capital.
Depending on the type, and industry of your business, costs will vary, but here are some major expenses you should account for:
License and permits
Business insurance
Rent and utilities
Inventory
Office equipment and supplies
Marketing spends
Employee salaries
Debt repayments
These expenses will be included in various financial statements such as the cash flow statement, profit and loss statement, and balance sheet. Additionally, as a new business, you should create accurate financial predictions ranging from the first few months to a year post-launch.
5. Market Your Products or Services
Marketing your business can seem daunting, but there are a few simple steps you can take to get started.
First, identify your target audience. Who are you trying to reach with your product or service? Once you know who your target audience is, you can begin to tailor your marketing efforts to them.
Next, consider what channels you will use to reach your target audience. Will you advertise online, in print, or on television? Each channel has its strengths and weaknesses, so it's essential to choose the one that will work best for your business.
Finally, don't forget to design a memorable logo that represents your brand and business. The easiest way to create a logo is to find an online logo maker. This online tool allows you to select from ready-made logos and customize them to your needs.
Contributing to the Community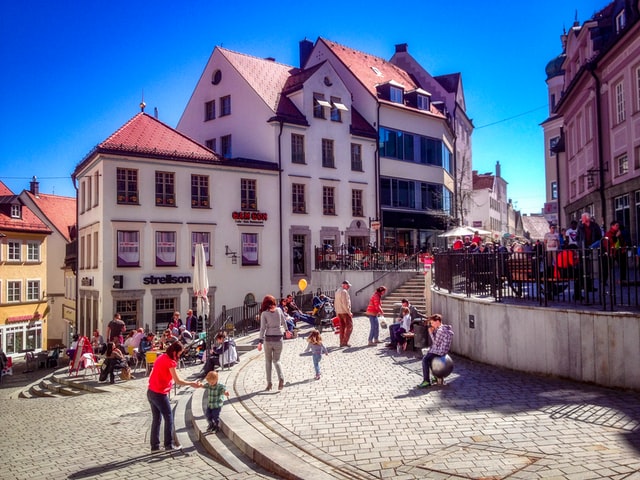 As a small business owner, you'll become an integral part of your community's social and professional ecosystem, here's how:
Providing Job Opportunities
As mentioned at the start of the article, small businesses are prominent employers across the country. By launching a business in your community, you'll generate new job opportunities, leading to an increase in employment rates and developing a stronger local economy.
Keeping Money in the Community
When customers buy products from multinational companies, it moves money out of the local economy. Conversely, buying a product or availing services of a local business has the opposite effect.
Revenue earned by small business owners is either reinvested into their business for creating more jobs, improving services, expanding office space, and more.
Additionally, being locals, they tend to spend resources on other local businesses such as grocery stores, restaurants, etc. This creates a self-sustaining ecosystem that benefits all members of the community and increases economic growth.
Starting a Business Means More Local Taxes
Small businesses pay taxes at the local level, which in turn is used by the local government for the betterment of the community through creating schools, parks, gardens, and other infrastructure projects.
Creating a Community Identity
Small businesses often serve as representatives of the community. It is not uncommon for localities to be known by a prominent business, whether that is a restaurant, clothing store, or car repair garage. Such businesses attract tourists and shoppers to the community which benefits fellow businesses as well in terms of receiving greater footfall.
Engaging with the Community
As a small business owner, it is important to look beyond your financial bottom line and take active steps toward engaging with your community. Not only will this build a stronger rapport with customers, but create a healthier environment for everyone in the community.
Here are a few community engagement ideas for your business:
Collaborate with Other Businesses
When local businesses work closely together, they form mutually beneficial partnerships. For instance, if you're running a restaurant, choose to buy your meat cuts from a local butcher. On the one hand, you'll be providing the butcher with a steady demand for this good, while on the other hand, you can sell high-quality dishes made from fresh locally sourced ingredients.
Similarly, at times when fellow businesses are struggling, you can help boost their sales by referring customers to their business.
Look for ways you can use your office space for tasks beyond work. For example, if your business is closed on weekends, allow others to rent conference rooms or outdoor spaces for hosting networking events, get-togethers, conferences, etc.
This will provide an excellent outlet for home-based entrepreneurs and others in the community to host events, rather than spending exorbitant fees on booking commercial spaces.
Sponsor Local Sports Teams
Whether it be sponsoring your local school's sports team or an independent organization, the money you provide will be used to buy equipment, hire better coaches, pay for travel, transportation, and much more.
While your contribution will be based on the financial strength of your business, the impact it will have on the community will be massive.
The simplest and easiest way to engage with your community is to volunteer. Every week you'll be able to find several organizations looking for volunteers, this could involve clean-up drives, forest conservation, awareness drives, vaccination camps, and much more.
When possible, undertake volunteering as a full-staff activity, where everyone from your business comes together to positively impact the community.
Time to Take The Leap!
Often while starting a business the main focus of entrepreneurs is to make profits and be financially stable. But, as this article shows, when operating a local business, one needs to have a holistic approach which includes:
Planning how you'll manage and market your business.
Helping fellow small businesses to succeed through mutually beneficial partnerships.
Contributing towards improving the local economy.
Going beyond the boundaries of your business to help the community in social causes.
Now's the time to chase your dream of entrepreneurship!
Are you having a party or event? Create a unique experience for your guests and leave a lasting impression by hiring an airbrush artist from Airbrush Events!