Airbrush Virtual Entertainment Everywhere in Utah!
Have you been looking for fun virtual event entertainment ideas?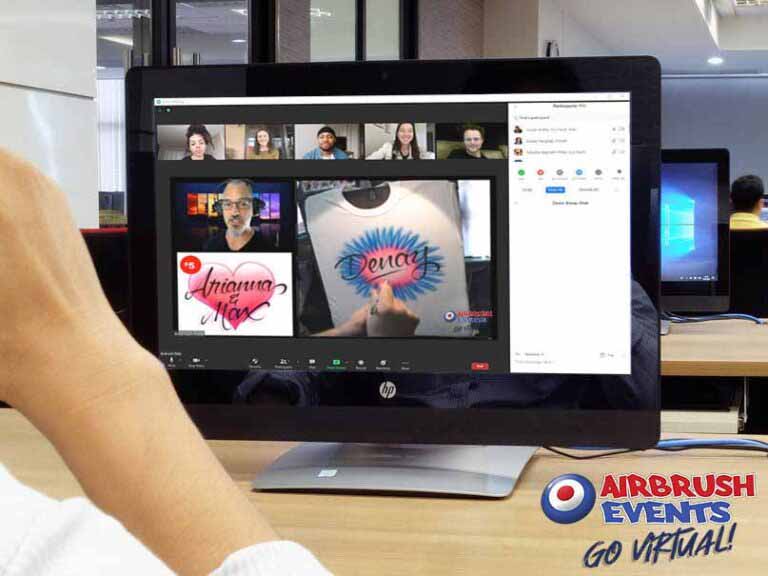 Easily Provide SAFE Entertainment… While Social Distancing!
If you have been looking for fun and engaging virtual event entertainment and an easy way to entertain event guest safely, look no further. By popular demand Airbrush Events entertainment is now available…Virtually Everywhere!
With direct interaction between the audience and the airbrush artist, these experiences offer the excitement of live entertainment from the comfort of home, or from any mobile device.
Airbrush Virtual Events are the perfect way to safely add excitement to any event and give your guest a fun and interactive experience they will remember for years to come!
Click here to learn more...
Do you need live entertainment for a small group gathering or an in-person event? Give us a call, we follow all COVID-19 safety protocols!
Now You Can Hire Airbrush Artist for Events in Utah
Call to reserve your airbrush event today!
727-238-7383
Select the Utah city closest to where you are having your event
How An Airbrush Event Works
Curious how an airbrush event works? From planning the party to how each of your guests picks their party favor, this short video will guide you through the process of how we work.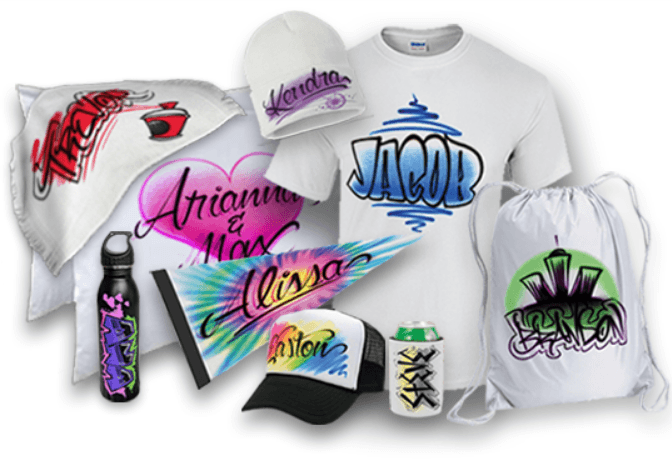 Party Favors Personalized Live At Your Event in Utah
T-shirts, beanies, coolies, pendants, draw string bags, hats and more...
Schedule An Event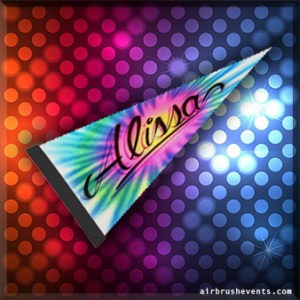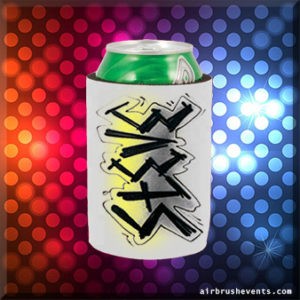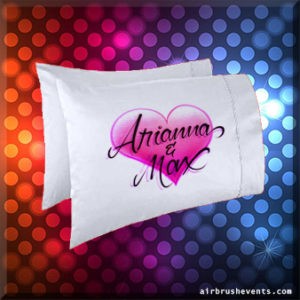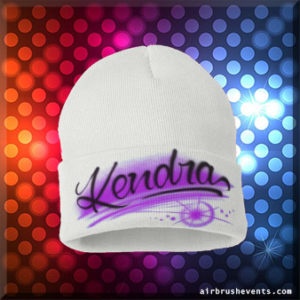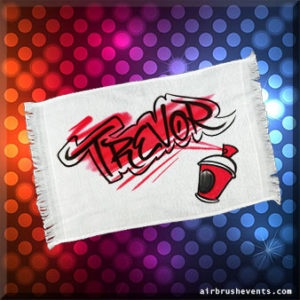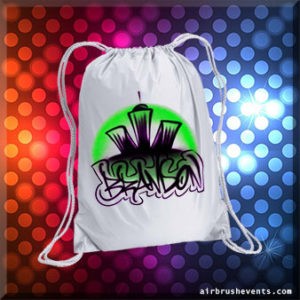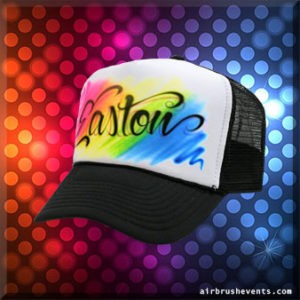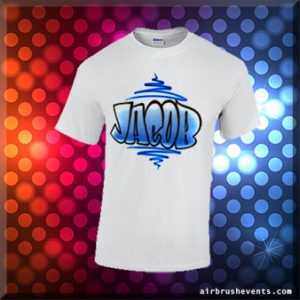 Airbrush Events Specializes in All These Types of Events in Utah
Bar/Bat Mitzvah Celebrations
Brand Activation Events
Birthdays & Quinceaneras
Corporate Hosting & Promotion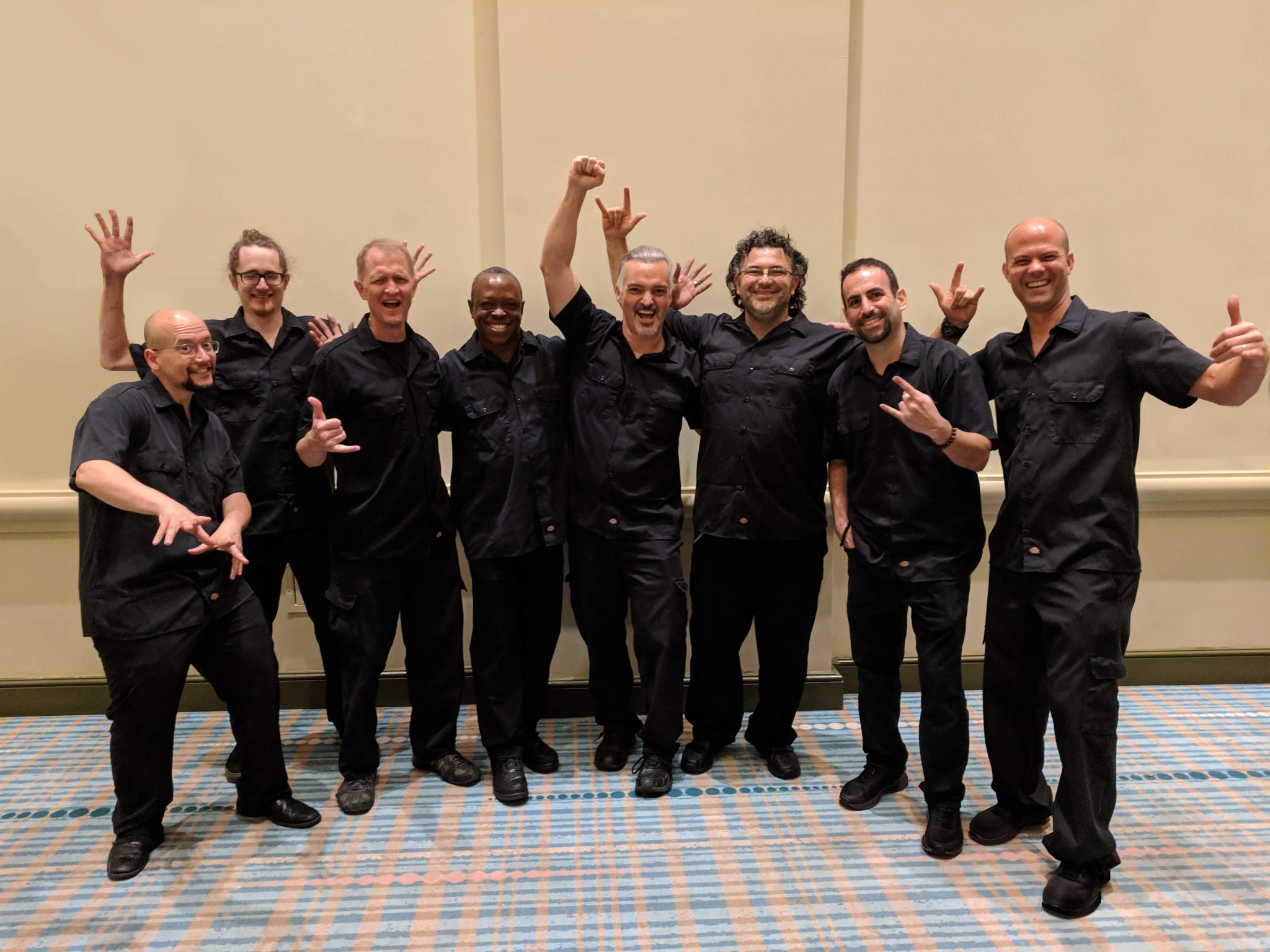 Meet The Airbrush Artist
Airbrush Events is based in West Central Florida. We travel all across the United States providing Airbrush Artist Event Services. Large or small our highly skilled airbrush artist team can handle any size event or promotion.
Schedule An Event
Schedule a Utah Airbrush Event Online in 3 Easy Steps!
Contact Us With Your Utah Event Details & Choose Your Party Swag
Receive Written Quote and Finalize The Agreement for Your Utah Event
Get the Party Started! That's it...
Request A Quote For An Airbrush Event
We have hyped parties for…
What customers are saying about Airbrush Events...

Super Easy

You were fabulous and super easy to work with!
Lora B. Iosa
Weddings By Eventions

Handcrafted Airbrush

Showed up early and was quite busy all night long. Everyone enjoyed their handcrafted airbrushed artwork.
Darren Kasenetz

Booking is Simple

Very friendly, very talented artist. He also listens to what a customer — child or adult — wants to have done. He lets their vision come alive in his work!
Bennett Zamoff
Memories from past events...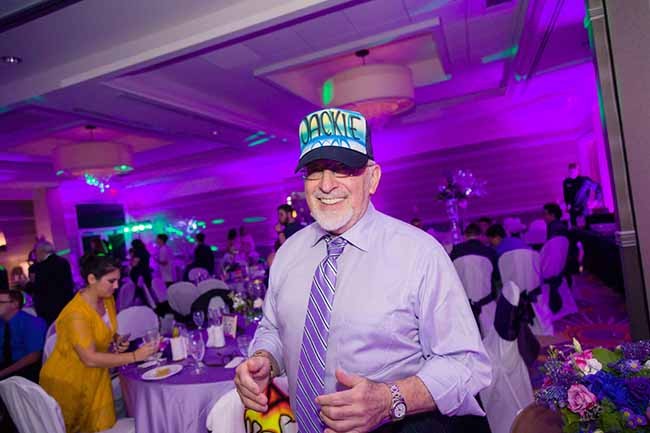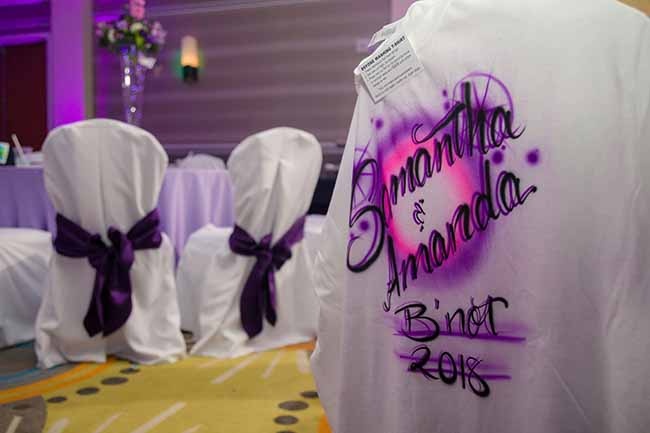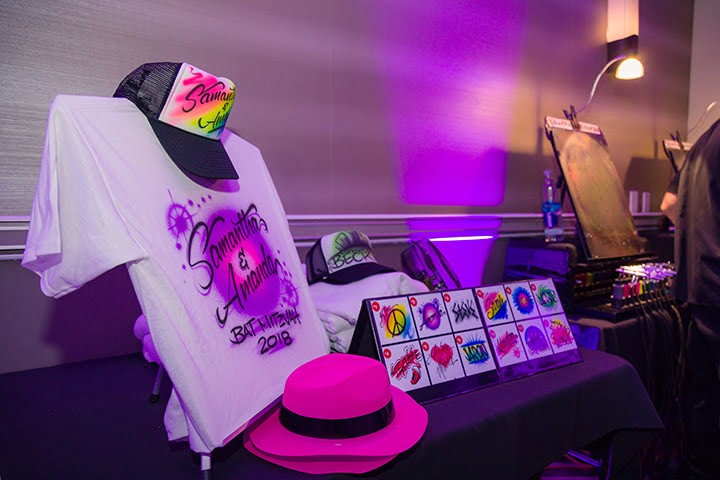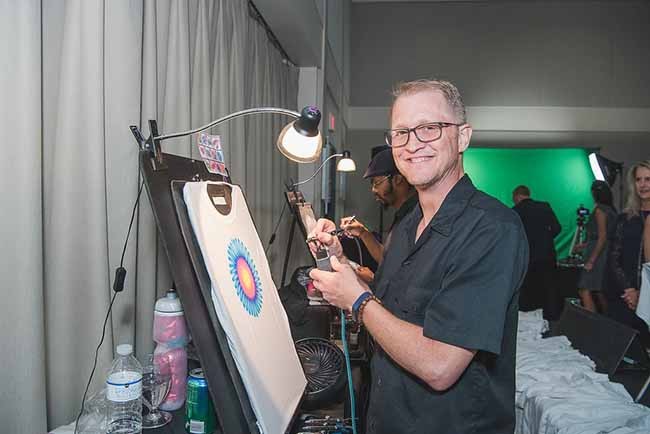 Fun Facts About Utah
Fun Facts About Utah
"Archaeological evidence dates the earliest habitation of Native Americans in Utah to about 10,000 to 12,000 years ago". [1]
Today we can still see evidence of the ancient Fremont Culture, who lived in what is now Utah state, between A.D. 300 – A.D. 1300. [2] Around Utah, you will find various locations containing Fremont petroglyphs (images carved into rocks) and pictographs (images painted onto rocks).
The name Utah comes from the Ute Indian Tribe, Ute meaning people of the mountains.
It should be no surprise, given the name, that Utah has a mountainous region. There are three geographic regions of Utah; the Rocky Mountains, the Colorado Plateau and, the Basin and Ridge region. The Rocky Mountain region includes Kings Peak, the highest point in Utah, standing at 13,528 feet.  
In 1874, a group of 148 Mormon pioneers, in search of freedom to practice their religion without opposition, arrived in Utah.
"The pioneers, led by Brigham Young, were the first non-Indians to settle permanently in the Salt Lake Valley" [3]. On July 24, 1847, they founded Salt Lake City.
During the summer of 1848, the harvest planted by the pioneers was almost destroyed. There was a late frost that year, plus drought and then a plague of crickets began devastating the crops. Despite being an inland state, with no coastline, flocks of California Seagulls arrived and ate the crickets. This saved enough of the harvest for the pioneers to remain in Utah. Thus, Utah's state bird is the seagull.
Utah Territory was created in 1850, with Fillmore (named after President Fillmore) declared the capital. The capital was then moved to Salt Lake City in 1856.
In 1870 Utah Territory gave women the right to vote. In an attempt to stop what was viewed as 'non-Christian' practices (mainly the issue of polygamy) among the Mormon population of Utah, Congress removed this right in 1887 with the Edmunds-Tucker Act. [1]
Utah moved toward statehood with the creation of the 1890 Manifesto. They adopted a constitution in 1895, which again included the right for women to vote. When Utah became the 45th state of the union on January 4, 1896, they were admitted with the 1895 constitution (including women's suffrage).
The population of Utah remains predominantly Mormon, who make up approximately 60% of Utah's population. However, in the capital of Salt Lake City, this dropped to 49% in 2018.
With a population of 3.2 million and a land area of 82,169 square miles, Utah is the 30th largest state by population and 13th largest by land area. This gives Utah a population density of 36.5 per square mile. [4]
Utah is a road-trippers dream. It boasts five National Parks and 11 National monuments, historic sites and, recreation areas.
Arches National Park contains "over 2,000 natural stone arches and hundreds of soaring pinnacles, massive rock fins, and giant balanced rocks.". [5]
The largest concentration in the world of irregular columns of rock (called Hoodoos) can be found in Bryce Canyon National Park. [5]
There are the canyons and rivers of Canyonland National Park. Capitol Reef National Park, which has a 100 mile stretch of 'a wrinkle in the earth' (a geological monocline). Also, Dinosaur National Park. There are no prizes for guessing what you can see here, dinosaur fossils embedded in the rocks.
There are over 2,000 lakes in Utah, the largest of which is The Great Salt Lake. [6] This is the largest saltwater lake in the western hemisphere.
With an average snowfall of 500 inches, Utah is a paradise for winter sports. Some of the best skiing in the country can be found in Utah. The 2002 Winter Olympics were held at Utah Olympic Park. Today the park offers year-round activities for adults and children.
References:
[1] WIKIPEDIA CONTRIBUTORS (3/1/2021). History of Utah. Wikipedia. Retrieved 4/6/2021.  https://en.wikipedia.org/wiki/History_of_Utah
[2] Natural History Museum of Utah (N.D.). Fremont Culture. Nhmu.utah.edu. Retrieved 4/6/2021. https://nhmu.utah.edu/fremont-culture
[3] Utah Travel Site. (N.D.). Salt Lake City. Utah.com. Retrieved 4/6/2021. https://utah.com/salt-lake-city/history
[4] United States Census Bureau (7/1/2019). Quickfacts Utah. US Dept of Commerce. Retrieved 4/6/2021. https://www.census.gov/quickfacts/UT
[5] National Park Service (N.D.). Utah. NPS.gov. Retrieved 4/6/2021. https://www.nps.gov/state/ut/index.htm
[6]  WIKIPEDIA CONTRIBUTORS (3/1/2021). History of Utah. Wikipedia. Retrieved 4/6/2021.  https://en.wikipedia.org/wiki/History_of_Utah