Airbrush Virtual Entertainment Everywhere in Ohio!
Have you been looking for fun virtual event entertainment ideas?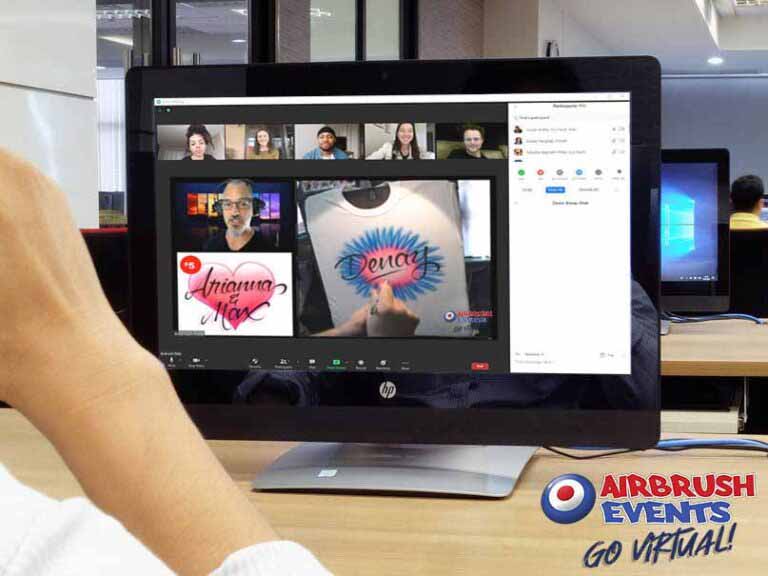 Easily Provide SAFE Entertainment… While Social Distancing!
If you have been looking for fun and engaging virtual event entertainment and an easy way to entertain event guest safely, look no further. By popular demand Airbrush Events entertainment is now available…Virtually Everywhere!
With direct interaction between the audience and the airbrush artist, these experiences offer the excitement of live entertainment from the comfort of home, or from any mobile device.
Airbrush Virtual Events are the perfect way to safely add excitement to any event and give your guest a fun and interactive experience they will remember for years to come!
Click here to learn more...
Do you need live entertainment for a small group gathering or an in-person event? Give us a call, we follow all COVID-19 safety protocols!
Now You Can Hire Airbrush Artist for Events in Ohio
Call to reserve your airbrush event today!
727-238-7383
Select the Ohio city closest to where you are having your event
How An Airbrush Event Works
Curious how an airbrush event works? From planning the party to how each of your guests picks their party favor, this short video will guide you through the process of how we work.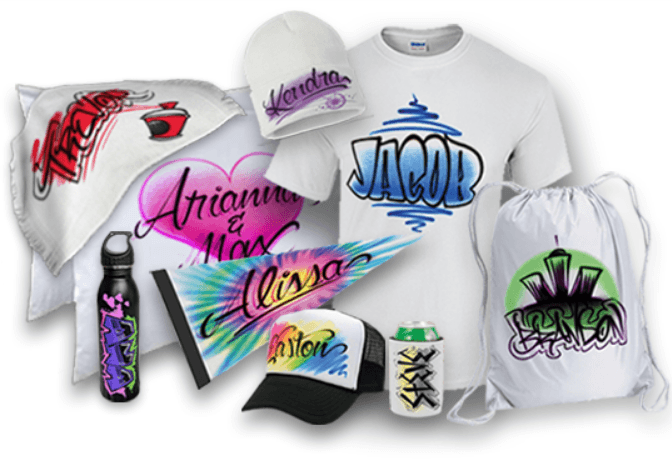 Party Favors Personalized Live At Your Event in Ohio
T-shirts, beanies, coolies, pendants, draw string bags, hats and more...
Schedule An Event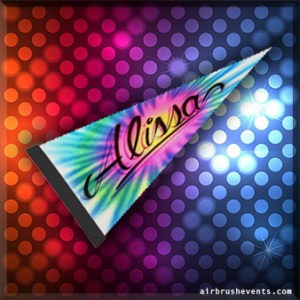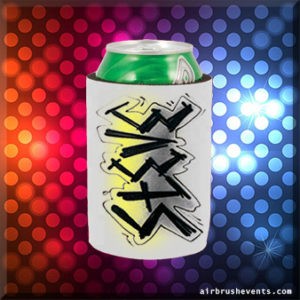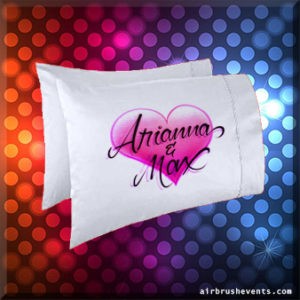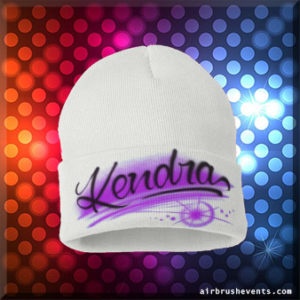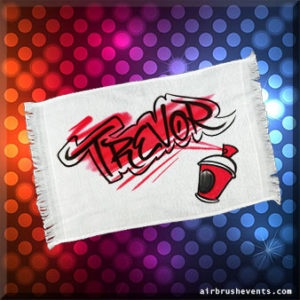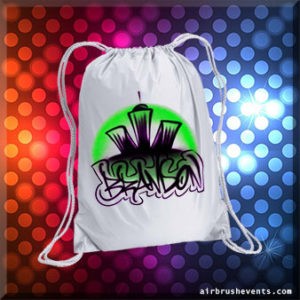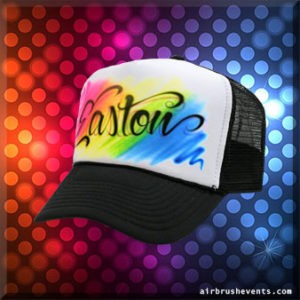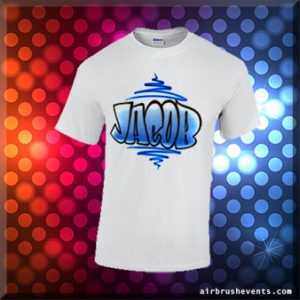 Airbrush Events Specializes in All These Types of Events in Ohio
Bar/Bat Mitzvah Celebrations
Brand Activation Events
Birthdays & Quinceaneras
Corporate Hosting & Promotion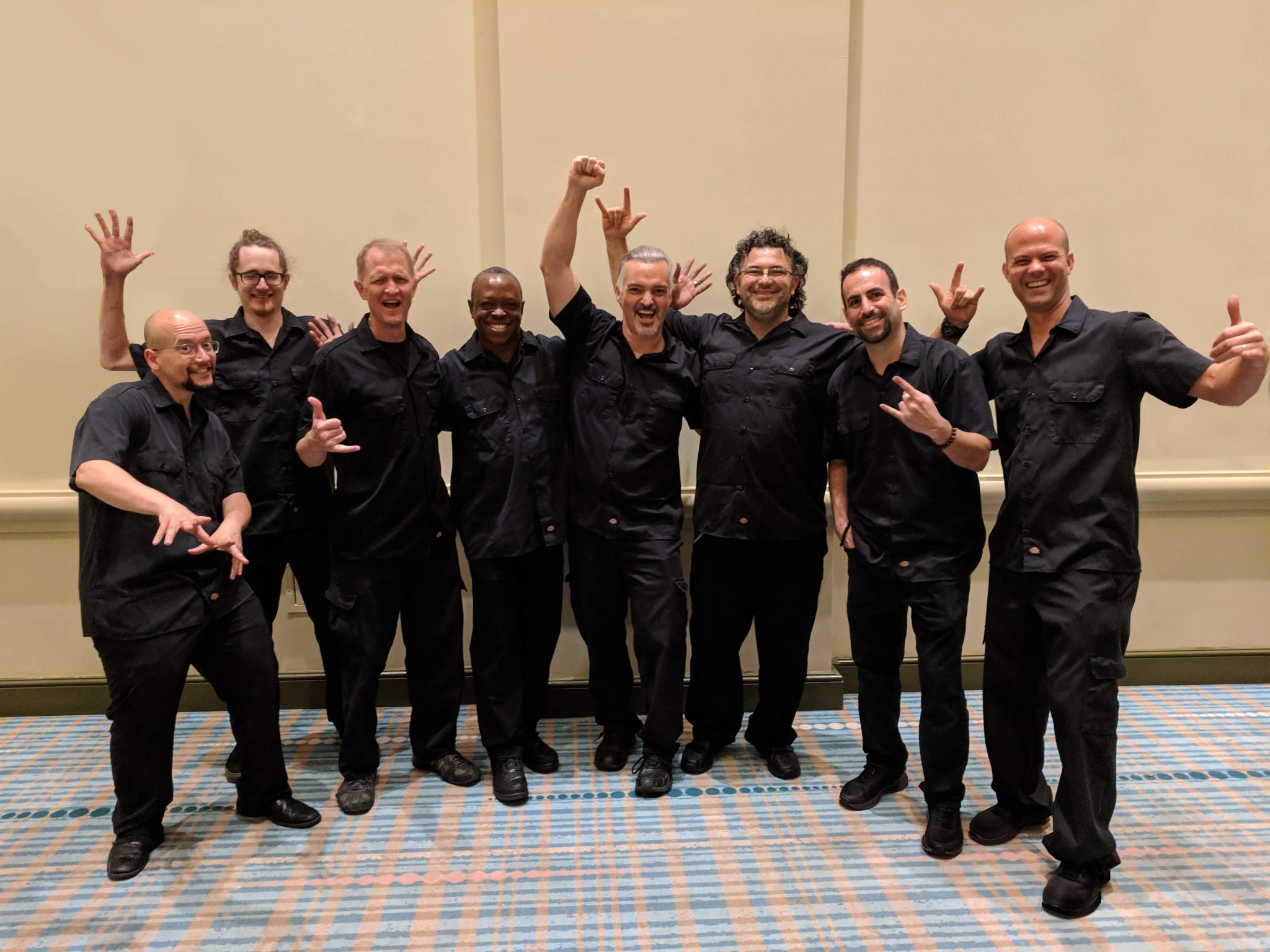 Meet The Airbrush Artist
Airbrush Events is based in West Central Florida. We travel all across the United States providing Airbrush Artist Event Services. Large or small our highly skilled airbrush artist team can handle any size event or promotion.
Schedule An Event
Schedule a Ohio Airbrush Event Online in 3 Easy Steps!
Contact Us With Your Ohio Event Details & Choose Your Party Swag
Receive Written Quote and Finalize The Agreement for Your Ohio Event
Get the Party Started! That's it...
Request A Quote For An Airbrush Event
We have hyped parties for…
What customers are saying about Airbrush Events...

Super Easy

You were fabulous and super easy to work with!
Lora B. Iosa
Weddings By Eventions

Handcrafted Airbrush

Showed up early and was quite busy all night long. Everyone enjoyed their handcrafted airbrushed artwork.
Darren Kasenetz

Booking is Simple

Very friendly, very talented artist. He also listens to what a customer — child or adult — wants to have done. He lets their vision come alive in his work!
Bennett Zamoff
Memories from past events...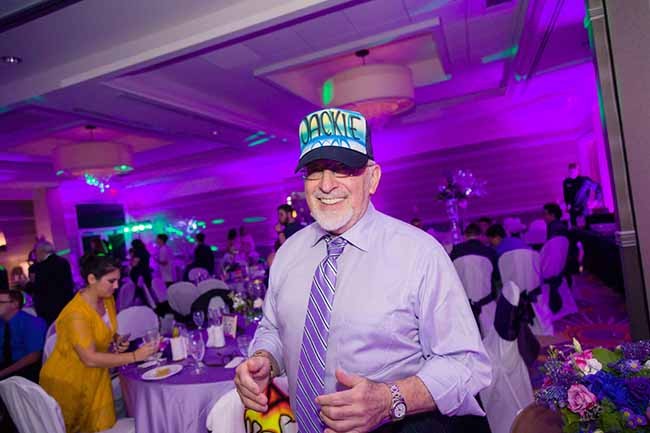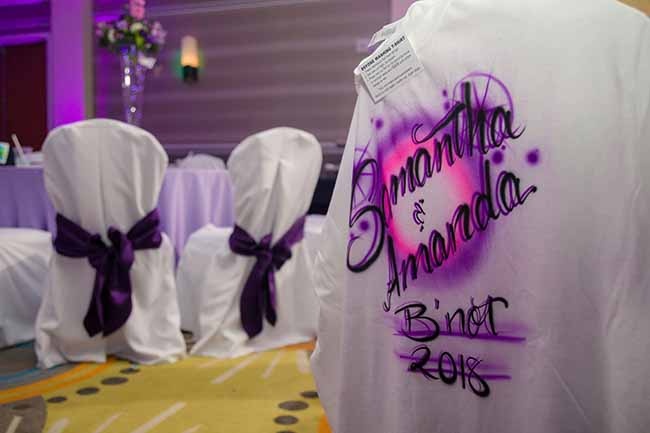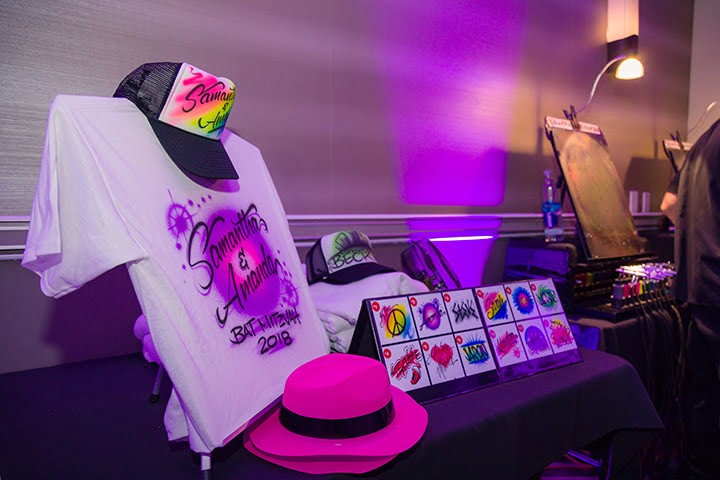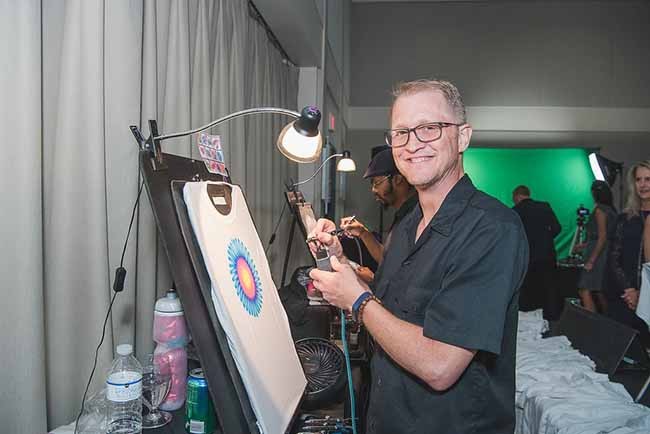 Fun Facts About Ohio
Fun Facts About Ohio
Ohio gets its name from the indigenous Iroquois word "o-y-o" meaning "the great river". It should come as no surprise then that Ohio has a great river, the largest tributary of the Mississippi river by volume. The Ohio river historically served as a dividing line in treaties between the British settlements and native American communities.
Although Congress admitted Ohio into the Union in 1803, a part of the process was missed – congressional ratification of the state constitution. This mistake meant Ohio technically remained part of the Northwest Territory for the next 150 years. The error was finally rectified in 1953, when congress was asked to retroactively ratify the Ohio state constitution.
With a land area of 40,860 sq miles, Ohio is the 34th largest State in the USA. Despite its relatively small size compared to many other states, Ohio ranks 7th in population size. With an estimated population of 11.6 million in 2019, Ohio is the 10th most densely populated state. [2]
In Ohio you can step back in time by visiting the largest community of Amish in the US. Slow right down and travel the 76.2 miles of Ohio's Amish Country Byway. Enjoy the slow pace of buggy rides through pristine pastoral countryside. Visit the Amish & Mennonite Heritage Center. Buy hand-made crafts and new or antique furniture in the gift and furniture stores. Visit the farms and taste the cheese and ice creams they are making.
Known throughout the world, Ohio is home to the Rock and Roll Hall of Fame. Located on the shore of Lake Erie in Cleveland, the museum documents the history of rock music. With seven floors of rock memorabilia, the museum has become a pilgrimage site for rock and roll fans.
It makes sense that Ohio is home to the National Museum of the US Air Force, located at Wright-Patterson Air Force Base near Dayton. The Wright Brothers, who invented and flew the world's first motor-operated airplane, were born and lived in Ohio. [3] With indoor and outdoor exhibits, the museum offers a time walk through aviation history. It's also free to visit, so a great family day out.
Close to Cleveland and Akron, you will find Cuyahoga Valley National Park. The National Park Service describes Cuyahoga as "a refuge for native plants and wildlife". Also "the winding Cuyahoga river gives way to deep forest, rolling hills, and open farmlands. Walk or ride the Towpath Trail to follow the historic route of the Ohio & Erie Canal." [4] Sounds idyllic.
A visit to Ohio may leave you feeling as though you've arrived in Medieval Europe, with castles hidden around the state. There is Chateau Laroche (commonly known as Loveland Castle, as it's located in Loveland). This is a 1/5th scale replica of a medieval castle. Built by Sir Harry Andrews – literally built by him by hand, using 32,000 quart milk cartons and 2,600 sacks of cement to form cement bricks – and now run by the Knights of the Golden Trail, the youth organization he established.
Among the many castles to discover in Ohio you will find castles where you can sit on thrones, sleep overnight or attend murder mystery dinners. Some of the castles to visit are the Gothic style Piatt Castles, a pair of small castles built by brothers. There's; Ravenwood Castle, Squire's Castle, Stan Hywet Hall & Gardens and Brumback Library. There is also the beautiful fairytale like Landoll's Mohican Castle, a place to let your imagination run away with you.
Ohio is also littered with theme and water parks. Located on the shore of Lake Erie, Cedar Park offers 17 world class roller coasters on the 364 acre park. It is the only amusement park in the world with six roller coasters that are at least 200 feet in height.
With so many places to discover make sure you plan your trip carefully before heading off to Ohio.
References
[1] United States House of Representatives (N.D.). The Admission of Ohio as a State. History.house.gov. Retrieved 12/11/2020. https://history.house.gov/Historical-Highlights/1951-2000/The-admission-of-Ohio-as-a-state/
[2] US DEPARTMENT OF COMMERCE (2019). QuickFacts Ohio. Census.gov. Retrieved 12/11/2020. https://www.census.gov/quickfacts/OH
[3] WIKIPEDIA CONTRIBUTORS (12/9/2020). Wright brothers. Wikipedia. Retrieved 12/12/2020. https://en.wikipedia.org/wiki/Wright_brothers
[4] National Park Service (11/12/2020). Coyahoga Valley. NPS.gov. Retrieved 12/12/2020. https://www.nps.gov/cuva/index.htm
[5] WIKIPEADIA CONTRIBUTORS (12/4/2020). Cedar Point. Wikipedia. Retrieved 12/11/2020. https://en.wikipedia.org/w/index.php?title=Knoxville,_Tennessee&oldid=990032462