Airbrush Virtual Entertainment Everywhere in California!
Have you been looking for fun virtual event entertainment ideas?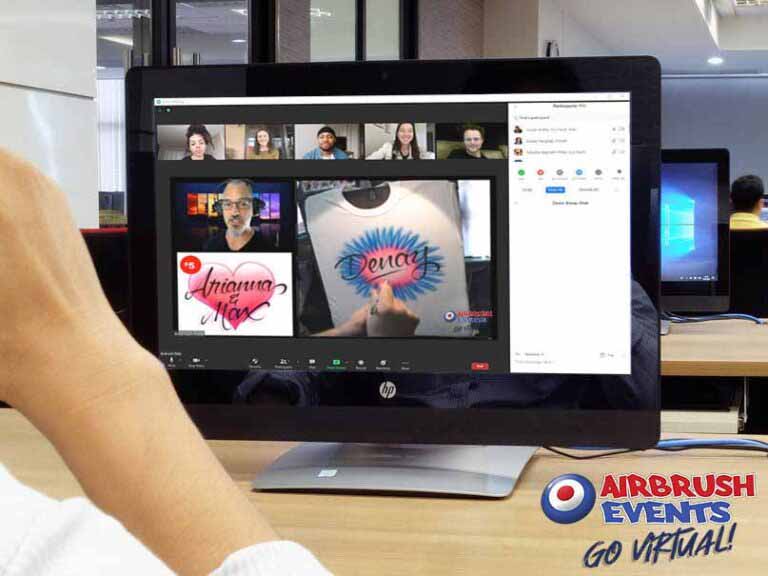 Easily Provide SAFE Entertainment… While Social Distancing!
If you have been looking for fun and engaging virtual event entertainment and an easy way to entertain event guest safely, look no further. By popular demand Airbrush Events entertainment is now available…Virtually Everywhere!
With direct interaction between the audience and the airbrush artist, these experiences offer the excitement of live entertainment from the comfort of home, or from any mobile device.
Airbrush Virtual Events are the perfect way to safely add excitement to any event and give your guest a fun and interactive experience they will remember for years to come!
Click here to learn more...
Do you need live entertainment for a small group gathering or an in-person event? Give us a call, we follow all COVID-19 safety protocols!
Now You Can Hire Airbrush Artist for Events in California
Call to reserve your airbrush event today!
727-238-7383
Select the California city closest to where you are having your event
How An Airbrush Event Works
Curious how an airbrush event works? From planning the party to how each of your guests picks their party favor, this short video will guide you through the process of how we work.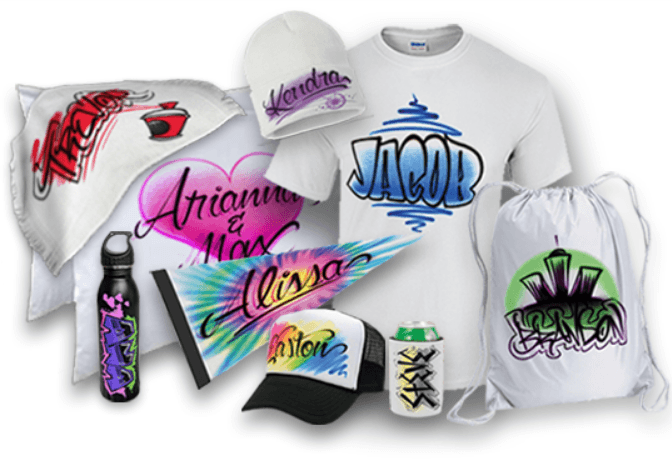 Party Favors Personalized Live At Your Event in California
T-shirts, beanies, coolies, pendants, draw string bags, hats and more...
Schedule An Event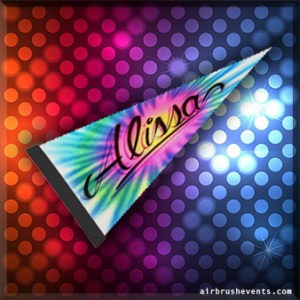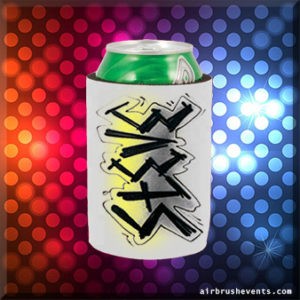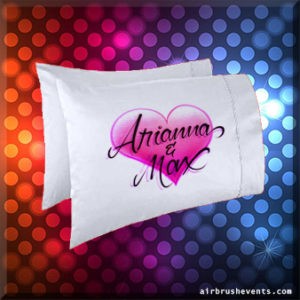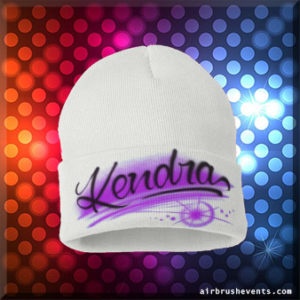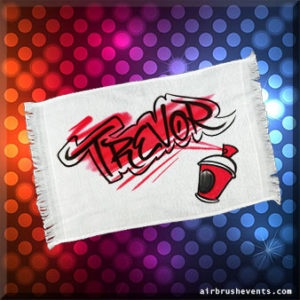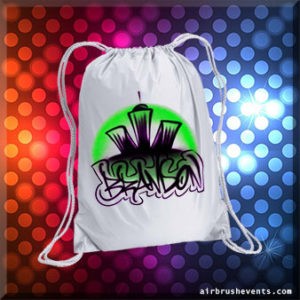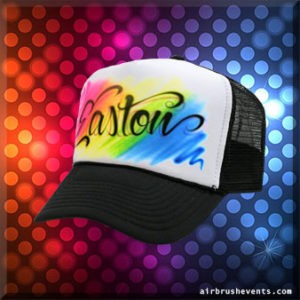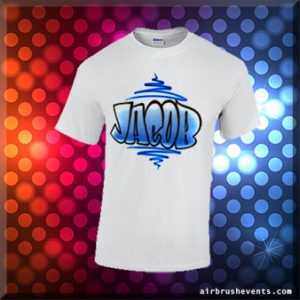 Airbrush Events Specializes in All These Types of Events in California
Bar/Bat Mitzvah Celebrations
Brand Activation Events
Birthdays & Quinceaneras
Corporate Hosting & Promotion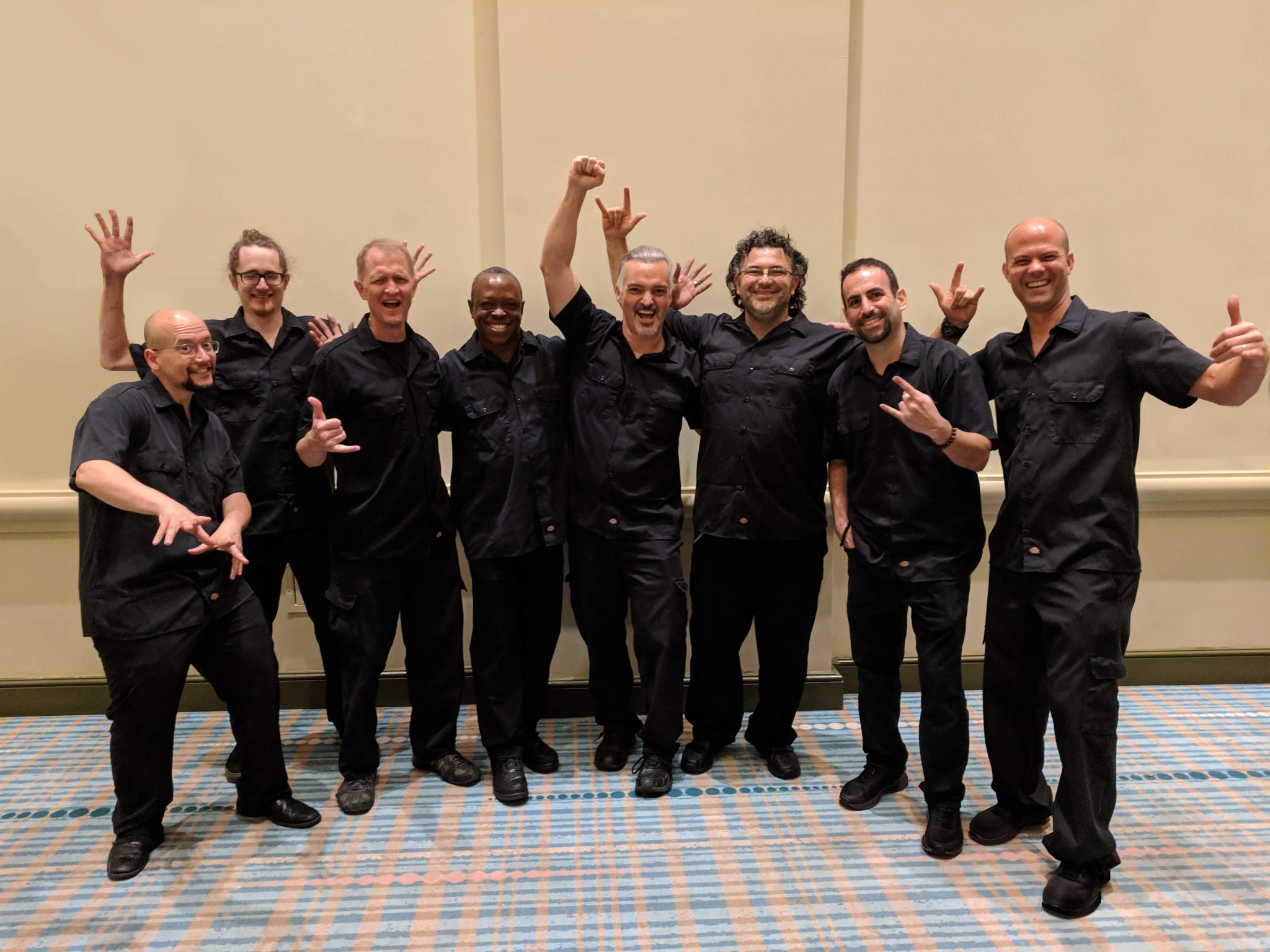 Meet The Airbrush Artist
Airbrush Events is based in West Central Florida. We travel all across the United States providing Airbrush Artist Event Services. Large or small our highly skilled airbrush artist team can handle any size event or promotion.
Schedule An Event
Schedule a California Airbrush Event Online in 3 Easy Steps!
Contact Us With Your California Event Details & Choose Your Party Swag
Receive Written Quote and Finalize The Agreement for Your California Event
Get the Party Started! That's it...
Request A Quote For An Airbrush Event
We have hyped parties for…
What customers are saying about Airbrush Events...

Super Easy

You were fabulous and super easy to work with!
Lora B. Iosa
Weddings By Eventions

Handcrafted Airbrush

Showed up early and was quite busy all night long. Everyone enjoyed their handcrafted airbrushed artwork.
Darren Kasenetz

Booking is Simple

Very friendly, very talented artist. He also listens to what a customer — child or adult — wants to have done. He lets their vision come alive in his work!
Bennett Zamoff
Memories from past events...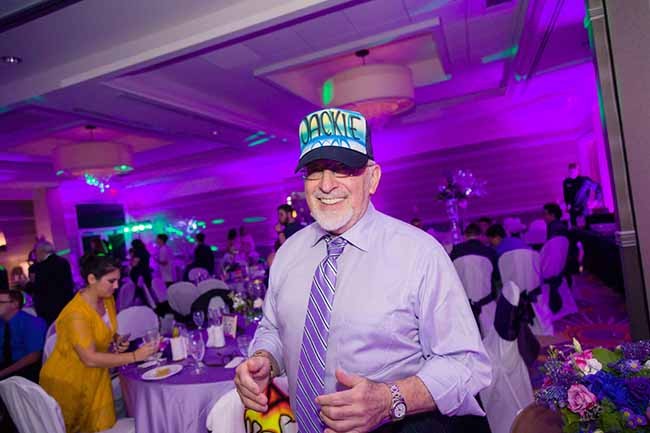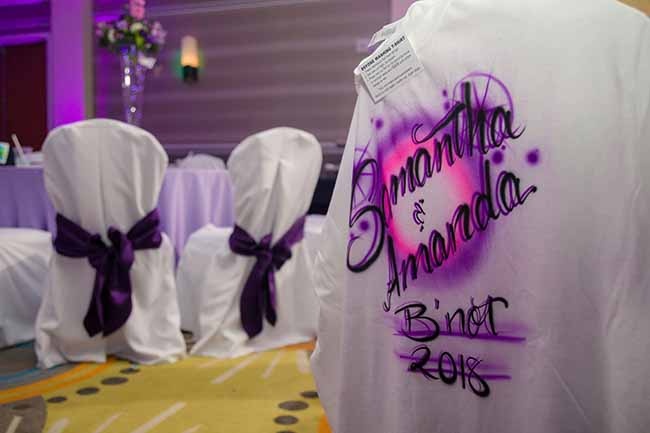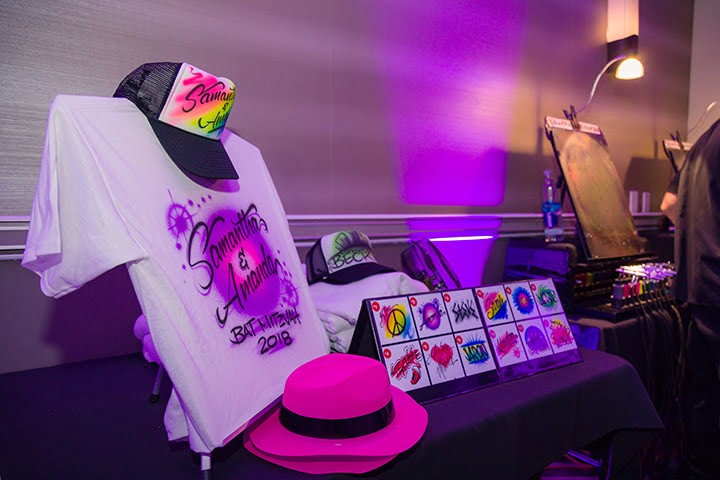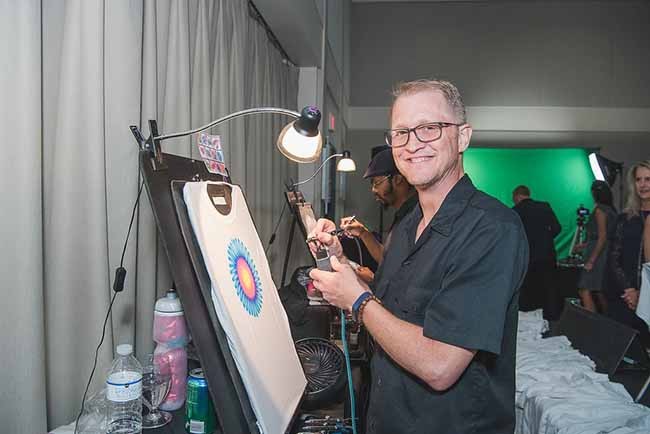 Fun Facts About California
Fun Facts About California
Want to know more about California, aka the golden state? Well, continue reading this article, you are in for a thrill! 'The golden state' also is known as the grape state was first visited by the Spanish missionaries in the 1700s, this home to all famous organization was part of the treaty ending the Mexican-American war. The state's motto is 'Eureka!', a Greek word that means "I have found it!" it was adopted in 1849, and surely it made sense being that gold was discovered at Sutter's mill in 1848 and shortly after California aka the el dorado state became the 31st state in 1850.
California is the third-largest state with Mount Whitney measuring as the highest peak in all lower 48 states, try climbing the famous Mount Whitney, or go hiking a Trail to the 14,495 feet summit. But remember to get yourself a wilderness permit.
Do you know bout 39,5 million people live in California making it one of the most populous states in all of the U.S. and Los Angeles and San Diego are among the top ten most populous city with Fresno proclaiming itself the raisin capital of the world? The official animal and flower being grizzly bear and poppy respectively.
California has the largest economy in the world, having famous institutions like Hollywood, Angel Island, Alcatraz, Golden gate bridge, Yosemite National park and if you want to realize your TV 'happily ever after dreams,' California is the home to Disneyland. After your visit to Disneyland, have an elegant dinner in any restaurant and have a taste of Californian wine- they are the top wine-producing state in America, it's also the "Avocado Capital of the World." Fallbrook holds an avocado festival annually, and California produces over 300,000 tons of grape yearly, it was also the first state to attain a trillion-dollar gross state product, given all these massive productions and the economy, California is called the 'land of milk and honey' this might just be the second promise land, who knows?
One of California's pride is the hosting of the summer and winter Olympic, and its home to the world most giant tree located in Sequoia national park which was then named as nation's national Christmas tree, couple with owning one of the largest Railroad museums in the united states.
Given the numerous attraction site in the golden state, your trip will definitely surpass a day, so you enjoy your nights at a grand hotel previously owned by the American author Zane Grey, it overlooks the Avalon bay, the view is fantastic. If you are looking to get instant tan lines, visit the Death Valley, it is the hottest and driest place in the united states with over 120 degrees Fahrenheit.
You might return home with a turkey stuck in your briefcase, as California raises a large number of turkeys per year, enjoy this white meat all through your stay and don't forget to visit McDonald's restaurant which was first opened in California in 1940. They serve mouthwatering hamburgers, much better than the one you had for lunch yesterday. And after living the big dream in the big state, California offers you Alpine county, a chance to go back in time, to experience living with no Atm, bank or traffic light. A town so small lacking a high school!
If you waiting to hear their funny laws well here is one, and it's about butterflies, it states: in the city of the pacific grove the molestation of monarch butterflies is illegal!
REFERENCES
1. Aron, Stephen. "Convergence, California and the Newest Western History", California History Volume: 86#4 September 2009. pp 4+ historiography.
2. Brands, H.W. The Age of Gold: The California Gold Rush and the New American Dream (2003) excerpt and text search
3. Cleland, Robert Glass. A History of California: The American Period (1922) 512 pp. online edition
4. Cleland, Robert Glass. A History of California: The American Period (1922) 512 pp. online edition
5. Fallbrookchamberoffinance.com
6. codepublishing.com (pacificgrove.com)
7. Culturetrip.com