Airbrush Virtual Entertainment Everywhere in Arizona!
Have you been looking for fun virtual event entertainment ideas?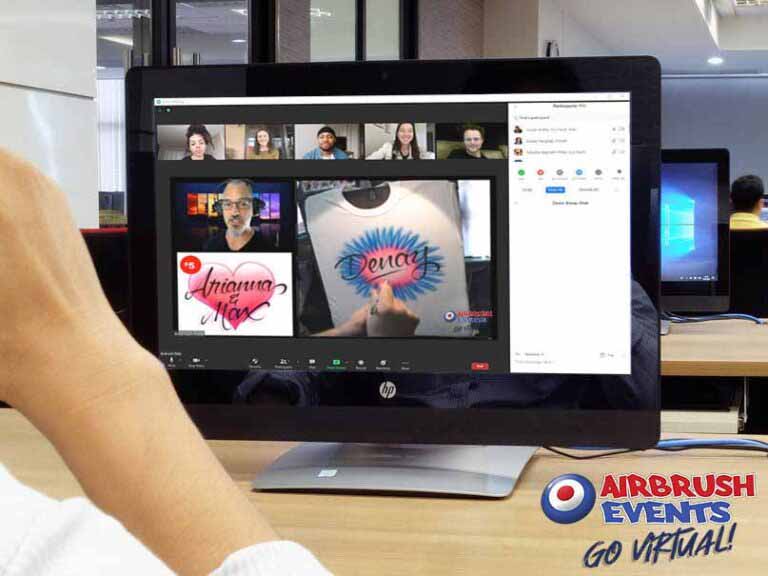 Easily Provide SAFE Entertainment… While Social Distancing!
If you have been looking for fun and engaging virtual event entertainment and an easy way to entertain event guest safely, look no further. By popular demand Airbrush Events entertainment is now available…Virtually Everywhere!
With direct interaction between the audience and the airbrush artist, these experiences offer the excitement of live entertainment from the comfort of home, or from any mobile device.
Airbrush Virtual Events are the perfect way to safely add excitement to any event and give your guest a fun and interactive experience they will remember for years to come!
Click here to learn more...
Do you need live entertainment for a small group gathering or an in-person event? Give us a call, we follow all COVID-19 safety protocols!
Now You Can Hire Airbrush Artist for Events in Arizona
Call to reserve your airbrush event today!
727-238-7383
Select the Arizona city closest to where you are having your event
How An Airbrush Event Works
Curious how an airbrush event works? From planning the party to how each of your guests picks their party favor, this short video will guide you through the process of how we work.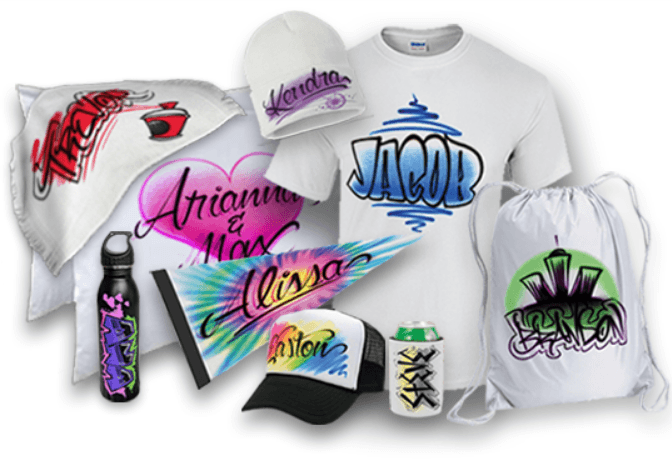 Party Favors Personalized Live At Your Event in Arizona
T-shirts, beanies, coolies, pendants, draw string bags, hats and more...
Schedule An Event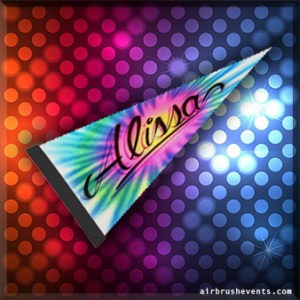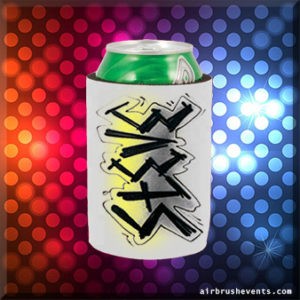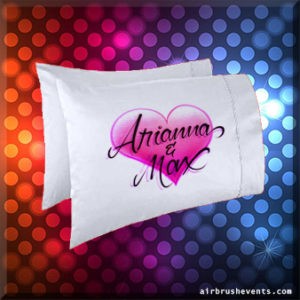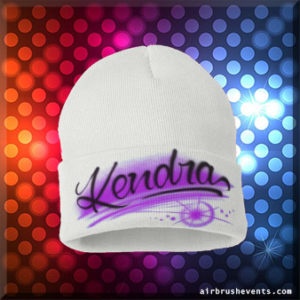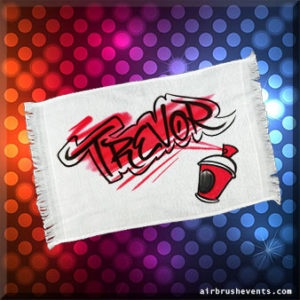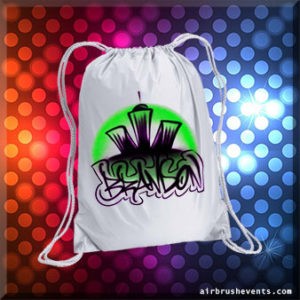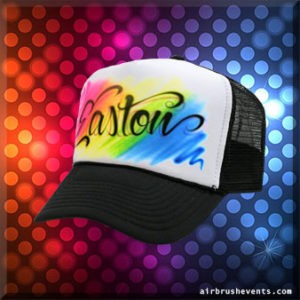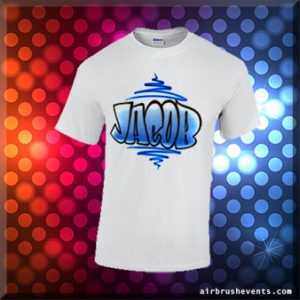 Airbrush Events Specializes in All These Types of Events in Arizona
Bar/Bat Mitzvah Celebrations
Brand Activation Events
Birthdays & Quinceaneras
Corporate Hosting & Promotion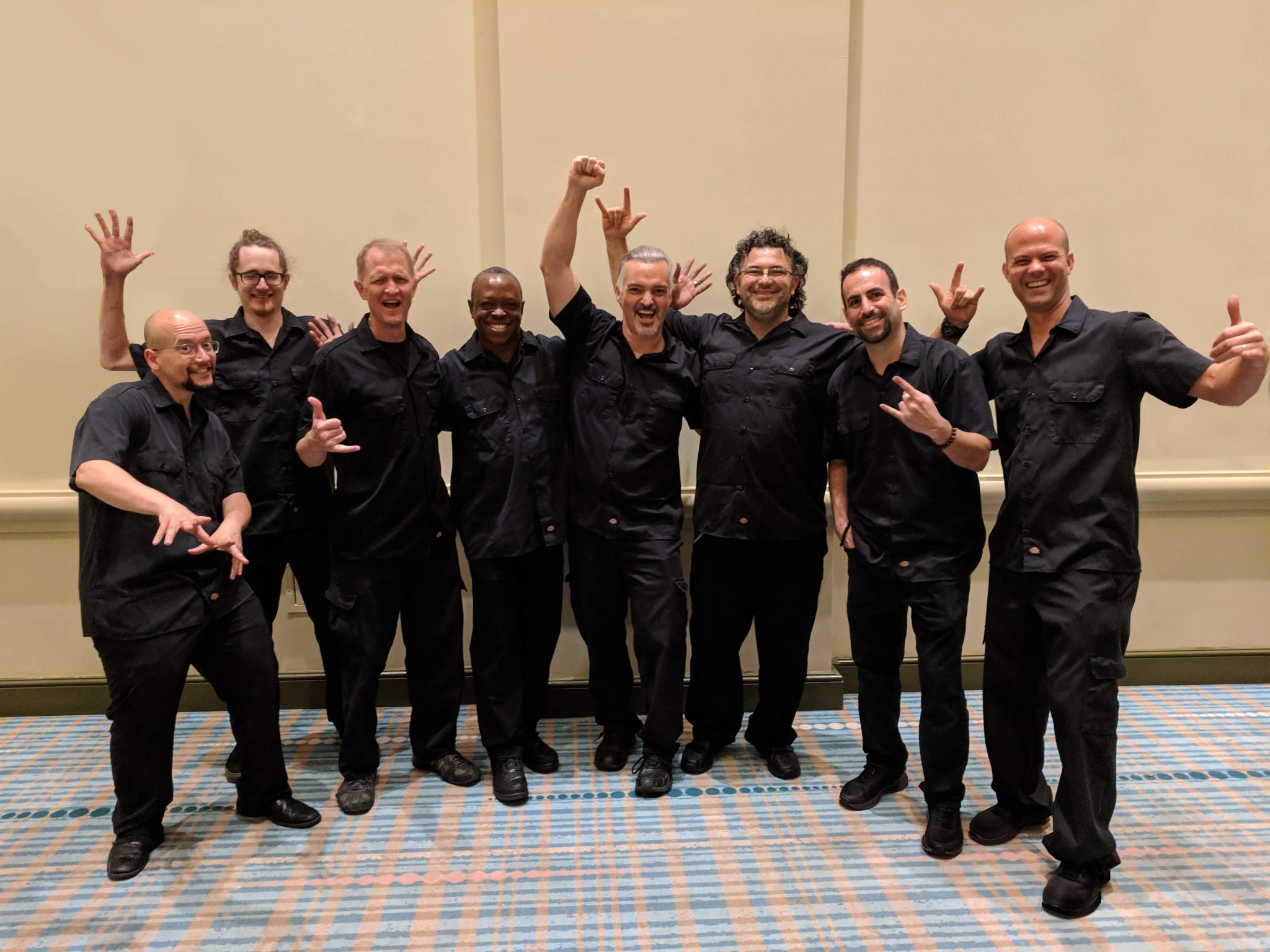 Meet The Airbrush Artist
Airbrush Events is based in West Central Florida. We travel all across the United States providing Airbrush Artist Event Services. Large or small our highly skilled airbrush artist team can handle any size event or promotion.
Schedule An Event
Schedule a Arizona Airbrush Event Online in 3 Easy Steps!
Contact Us With Your Arizona Event Details & Choose Your Party Swag
Receive Written Quote and Finalize The Agreement for Your Arizona Event
Get the Party Started! That's it...
Request A Quote For An Airbrush Event
We have hyped parties for…
What customers are saying about Airbrush Events...

Super Easy

You were fabulous and super easy to work with!
Lora B. Iosa
Weddings By Eventions

Handcrafted Airbrush

Showed up early and was quite busy all night long. Everyone enjoyed their handcrafted airbrushed artwork.
Darren Kasenetz

Booking is Simple

Very friendly, very talented artist. He also listens to what a customer — child or adult — wants to have done. He lets their vision come alive in his work!
Bennett Zamoff
Memories from past events...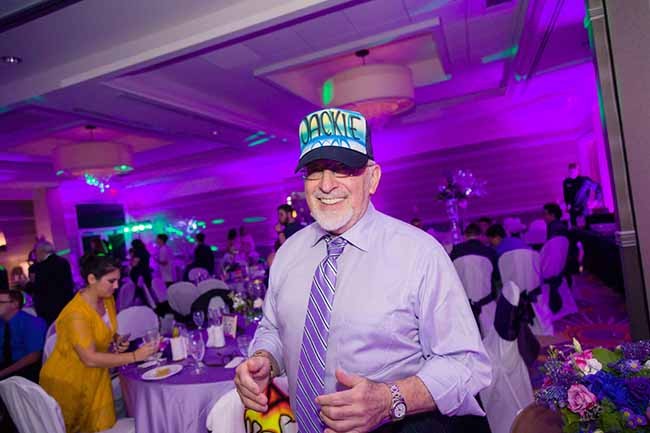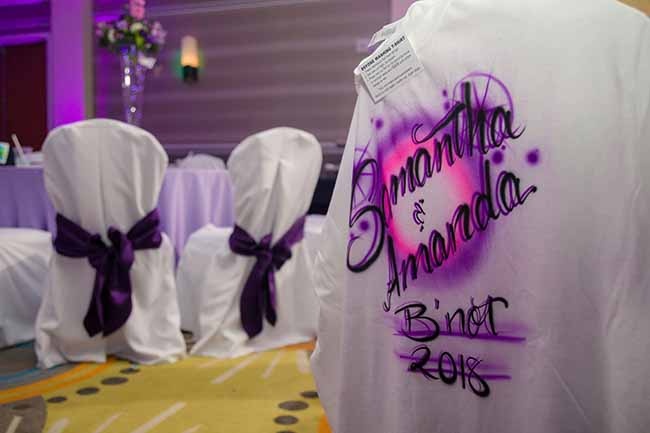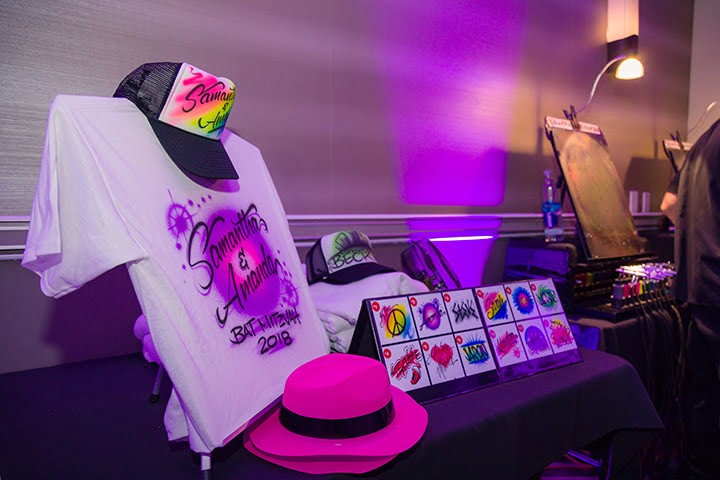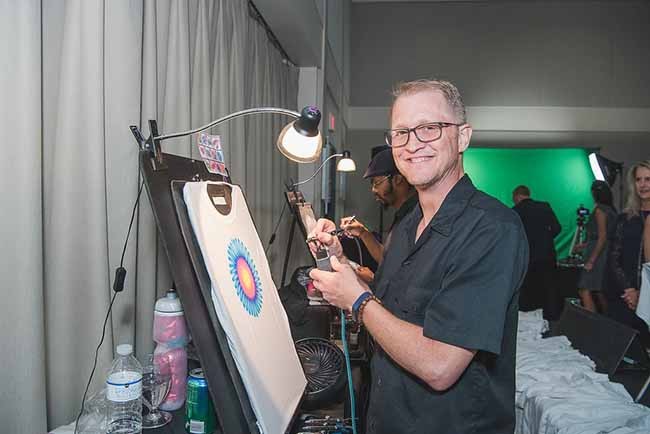 Fun Facts About Arizona
Fun Facts About Arizona
THE GRAND CANYON STATE
History of Arizona
Let us begin with the history of Arizona. It encompasses Spanish, Mexican, and American periods. Arizona was part of the state of Sonora, Mexico from 1822, but the settled population was small. In 1848, under the terms of the Mexican Cession, the United States took possession of Arizona above the Gila River after the Mexican War! This became part of the Territory of New Mexico. Utilizing the Gadsden Purchase, the United States secured the northern part of the state of Sonora, what is now Arizona south of the Gila River in 1854.
In 1863, Arizona was split off from the Territory of New Mexico to form the Arizona Territory. The remoteness of the region was eased by the arrival of railroads in 1880. Arizona became a state in 1912! But, it was primarily rural with an economy based on cattle, cotton, citrus and copper. Dramatic growth came after 1945, as retirees who appreciated the warm weather and low costs emigrated from the northeast.
The coming of the new world (industrialization)
February 23rd 1883 United Verde Copper Company was incorporated under New York law. The small mining camp next to the mine was given a proper name, 'Jerome.' The town was named after the family which had invested a large amount of capital. In 1885 Lewis Williams opened a copper smelter in Bisbee, and the copper boom began, as the nation turned to copper wires for electricity. With the arrival of railroads in the 1880s made mining even more profitable! And, national corporations bought control of the mines and invested in new equipment. Mining operations flourished in numerous boomtowns, such as Bisbee, Jerome, Douglas, Ajo and Miami.
Do you know where Arizona is located?
This copper state is located in the southwestern quadrant of the conterminous states, bordered by California to the west, Nevada to the northwest, Utah to the north, New Mexico to the east, and the Mexican state of Sonora to the south. The Colorado River forms the boundary with California and Nevada. Phoenix, situated in the south-central part of the state, is the capital and largest city. Area 113,990 square miles (295,233 square km). Population (2010) 6,392,017; (2018 est.) 7,171,646.
Arizona seems to be in the middle, right?
Climate. Cold or hot?
It will interest you to know that about half of Arizona is semiarid, one-third is arid, and the remainder is humid. The Basin and Range region have the dry and semiarid subtropical climate that attracts most of her winter visitors and new residents. In, January Phoenix receive more than four-fifths of the possible sunshine and have a mean maximum temperature of 65 °F (18 °C). Occasionally, light frosts occur at most locations in the Basin and Range region in winter, and some precipitation interrupts the exceedingly dry springs and mildly dry falls. The daily temperature, maximum readings average 106 °F (41 °C) in Phoenix in July, and nighttime temperatures drop to an average of 81 °F (27 °C).
Culture & Heritage
Arizona culture is fascinating, and it consists of both the native American and Hispanic cultures with a southwestern touch and stunning outdoors beauty. Arizona is best for outdoorsy people, locals are into activities like- camping, biking, golf, hiking and any other outside activities. The Arizonan desert, mountains, sunset and sky, are really breathtaking and it's a must-see for you.
Arizona belongs to one of the native American worlds. There are so many reservations and so if you have the opportunity to see a Native American festival, go for it! There are usually unique artwork, costumes, dance and mind-blowing music
The Mexican culture is still predominant, and you will always see large Hispanic neighborhoods in every city. The stores sell everything! You are offered clothes, traditional pottery and jewelry. You get to enjoy Mexican fiestas with a lot of dancing and music- trust me you are in for a thrill. And, there places with real authentic Mexican food- yummy!
Arizonan food
10 best Arizona food
The yummy you have been waiting for- Arizona's cuisine is traditionally influenced by her early Mexican settlers. And when Americans began migrating in from the South and the Midwest, a superb mix was invented. Although it's challenging to know which food Arizonans consider their favorite, however, research was done, and these are the findings, just for you. Feel free to experiment.
1.Cheese crisps
A cheese crisp is tortillas, bake with cheese toppings. They are not quesadillas
2. Burritos
Arizonans call this 'burros'. Drizzled with cheese and sauce, enjoy this as a fork-knife meal or only as a portable meal. Arizonan burros will satisfy your cravings, anytime!
3.Fry Bread
You would definitely enjoy this food. Arizonan restaurants but mostly food trucks offer this on their menu; fry bread is always served with heaped beans and cheese with a pinch of salt, drizzle of honey and a sprinkle of ground sugar or you can enjoy it wrapped around any meat of your choosing.
4. Chimichangas
You see that burrito above, toss it in a deep fryer. Yum! Yum!
5. Locally brewed beers
Right from the horse's mouth, all brew lovers would kill for Oak Creek Brewing in Sedona and Lumberyard in Flagstaff.
6. Menudo
They call this soup, the hangover cure. It takes hours to prepare, so you might need to drink this soup after all the fun you had on Saturday.
P.S- you can only get this soup during weekends.
7. Hominy stew or Posole
You go crazy eating this soup with fresh hot tortillas, it is delicious! It has two kinds though, which is the native or the Mexican style but whichever you are offered, the stew remains superb.
8. Sonoran hot dogs
This hot dog is wrapped in gracious bacon and with, onions, tomatoes, pinto beans, mayonnaise toppings and mustard in a roll, one bite and you experience paradise…
9. Margaritas, sun tea and. Shaved ice or raspados
10. Navajo Tacos
AND LET THE FUN BEGIN
Must do! In Arizona
Art & vintage shopping
Places like the:
-Sam Poe gallery in Bisbee
-Jerome
-Tubac
-Globe and Miami
Food worth your travelling to Arizona
-Arizonzan's fresh foodie tail
-Native cuisine in Arizona
-Expedition foodie AZ
The brew kings in Arizona
This will excite you-
-Trendy bars & coffee shops
-Arizona craft brews guild
-Arizona wine growers association
Incredible outdoor adventures
The adventure that awaits you is endless! There are so many activities that will call to you in Arizona:
-Nature
-Hiking
-Camping
-Horse riding
-Canyoneering
-Fishing & hunting
-Fascinating accommodations
-Boating, rafting and watersports
-Soaring, zipline or sky diving!
For Arts & Entertainment
The beauty of act is also found on stage, on canvas and on the street- you get to watch Arizona's gifted artist as they work.
Access to renowned museums with all delights like learning about the American Indian heritage, sculpture, musical instruments, painting, photography and a lot more- you name it!
You could be an audience member at a live performance such as ballet, drama, comedies and musicals. You should try:
-Concert Venues
-Performing Arts
Your ADVENTURE begins below,
• Arcosanti & Cosanti Foundation, a prototype arcology
• Arizona Opera, a place Arizona call home
• Colorado River Indian Tribes (CRIT) Museum, the heritage of four tribes
• Copper Art Museum, a splendid collection of copper artwork
• Desert Caballeros Western Museum, meet historical exhibit
THE BEST PLACE TO VISIT IN ARIZONA
Grand Canyon
Theodore Roosevelt said, "In the Grand Canyon, Arizona has a natural wonder which is in kind absolutely unparalleled throughout the rest of the world."
Sedona
This is the hiker's paradise, Sedona is one the most beautiful place in America- trust me, you would testify to this. Its unique energy vortexes and famous red rocks will incite your hiking spirit.
Tucson
Almost through the year, Tucson is sunny. But don't let this discourage you, you could lounge by the pool and enjoy seeing coyotes and prairie dogs in the gargantuan acre of Arizona-Sonora Desert Museum, or you could drive along the Mount Lemmon Scenic Byway for stunning photo ops,
Phoenix
The nation's fifth-largest city is phoenix, it is renowned for golf courses and world-class spas, you can also visit amazing attractions such as the Musical Instrument Museum, dynamic restaurant scene for foodies to explore the Desert Botanical garden.
Flagstaff
Flagstaff is a stunning stopover on a road trip to the Grand Canyon. You could spend your day at the San Francisco Peaks and the Arizona Snowbowl or enjoy sitting ancient dwellings at the Walnut Canyon National Monument.
FUN FACTS
1. Copper production-leading
2. There are 22 national parks and monuments in Arizona.
3. Arizona is home to 75+ licensed craft breweries and growing.
4. There are over 100 wineries and 22 varietals of wine produced in Arizona.
5. Arizona chefs and restaurants had over 50 James Beard nominations since 2010.
6. The Sonoran Desert is the only place on earth where the iconic saguaro cactus grows.
7. Arizona has 35 state parks and natural areas preserving the state's natural, cultural and recreational resources.
9. Two of the top-rated waterfalls in the United States are located in Arizona: Grand Falls and Havasu Falls.
8. The Arizona Trail is 800 miles long and is dedicated to hiking, mountain biking, horseback riding and cross-country skiing.
10. The Grand Canyon National Park is one of the Seven Natural Wonders of the World, and the only one located within the United States.
11. According to Travel + Leisure, three of the 10 world's best destination spas are in Arizona (two in Tucson and one in Sedona).