Despite the difficulties Covid-19 has thrown at us throughout 2020, I am delighted to announce the launch of Virtual Airbrush Events.
Wow, what a year 2020 has been. The ups, the downs, the twists and turns, the tragedies and triumphs. And the year isn't even over yet!
The virus doesn't care if it's your birthday, wedding, or bar mitzvah. It doesn't care if you're a large international corporation or a small 'mom and pop' business. We were all faced with the same dilemmas. How do we celebrate or conduct events during a pandemic? How do we keep our business going?
We could either give in and sink below the surface or innovate to stay afloat. We could wait it out while losing touch with our clients and using up our savings. Alternatively, we could pivot to find new ways to stay connected, without endangering each other or our communities.
Airbrush Events are no exception. We love the work we do and are very proud of the company we have built. We weren't willing to let the pandemic destroy our dreams.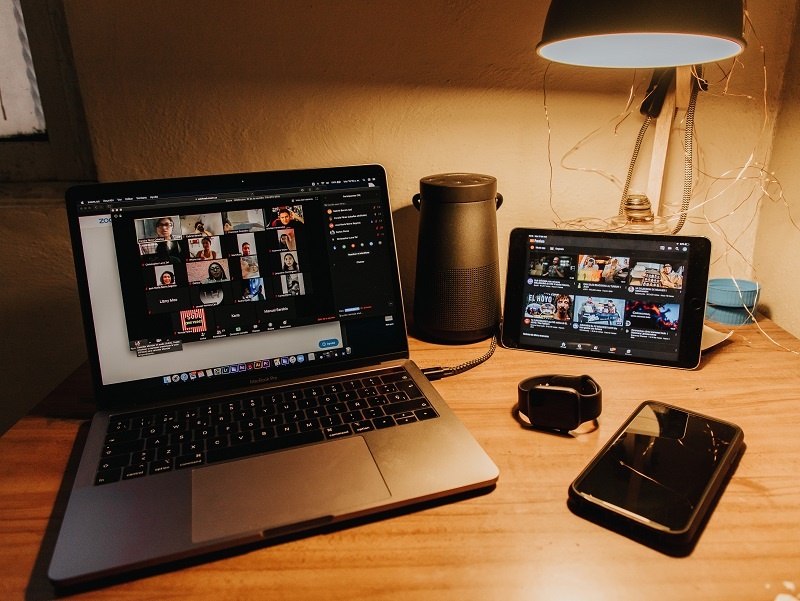 Ok, let's be honest here. Hands up if you'd heard of Zoom video communications software before 2020? Zoom launched in 2011 but was little known outside the corporate business world. That is until the Covid pandemic struck and 2020 is where Zoom found it's time to shine.
Young and old learned to Zoom. Businesses held virtual meetings with work from home staff and clients. Virtual birthday parties became a thing. Your Bar or Bat Mitzvah could be shared virtually. Children were learning in Zoom classrooms. Families, friends, and communities stayed close by using the software.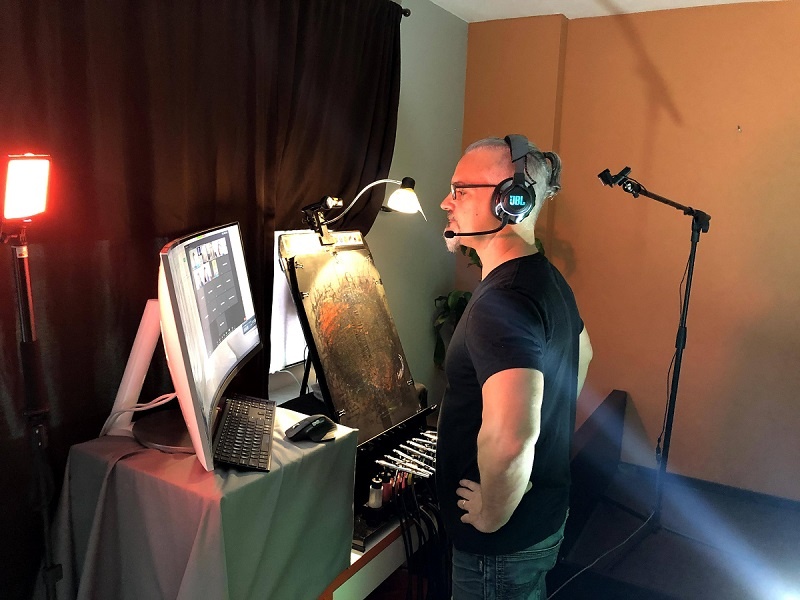 Airbrush Events are no exception and Zoom gave me my lightbulb moment. One of the sidelines to our business I've always really enjoyed is college events. We work with an agent who finds college events and parties where we attend and airbrush gifts. Always so much fun.
In August we tested out the idea of taking Airbrush Events virtual for the college events. There were some teething problems learning the Zoom software and the best camera placements. But once we had ironed out the technical issues, we were amazed at how easily our business model fits into the virtual world. With the bonus of not having to struggle to find parking spaces.
Check out this video to see how virtual airbrush events can work for your business or private event.
What guests are saying about virtual airbrush events
We were overwhelmed by the positive feedback to the college virtual airbrush events. Not that I want to brag but here's a selection …
Shaunta' commented "Pete is the guy to call for an airbrushed shirt. Very talented, fun, and quick. I'm thinking about booking him for my daughter's birthday party … the children would love watching Mr. Pete make their airbrushed shirt".
Michelle said "… Great host, kept things moving, made good suggestions, gentle reminders, explanations, etc. Also very good music and audio … can't wait to get my shirts!"
Timothy said, "I love the whole setup of the virtual event. Pete was chill and a master at his craft … Definitely would want to book him again".
Ok, I bragged a little but with hand on heart, I can say we have not received a single negative review so far.
How can a virtual airbrush event help?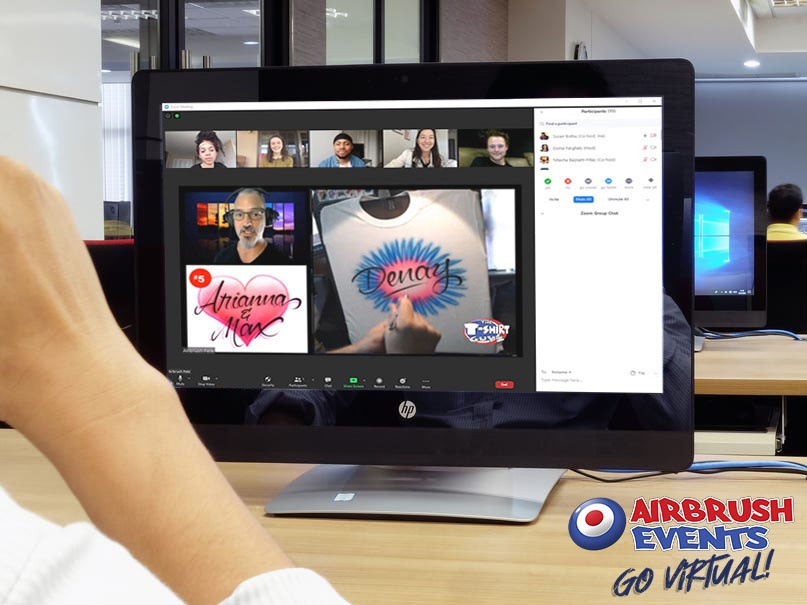 If you're a business we can reconnect you to your client base. Whether you're struggling to stay in touch with clients virtually or you're ready for a relaunch. If you want to thank your clients/staff for their loyalty or just offer them a fun event to get the ball rolling again.
Perhaps you're looking for a way to keep potential clients engaged online. Offer them a free airbrushed gift at the end of your presentation to increase their desire to stick around.
Not only will your clients be engaged with your business during the event but also while they wait for their airbrushed gift to arrive in the mail. Once they have their gift, brand recognition is engaged.
For personal events or celebrations, the virtual world can seem awkward. Everyone sits around while two people speak at a time. Perhaps one family member takes over the event and makes it all about them. Or the party goes well but you didn't get to enjoy it because you were hosting it.

A Virtual Airbrush Event is even great for virtual cocktail parties. I have a whole blog on cocktail parties here.
Contact us to find out how you can relax at your event and enjoy the party.
To discuss your event needs or book a virtual airbrush event, click here.
Follow us on your favorite social platform!