Easily provide virtual event entertainment while social distancing!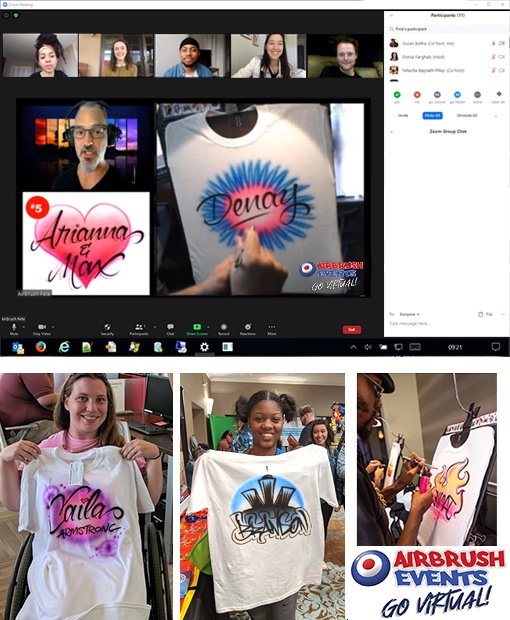 What is a virtual airbrush event, you ask?
With COVID-19 putting a damper to everyone's plans, we pivoted our Airbrush Events model so it can be done 100% virtually.
Your guests will love the excitement of an Airbrush Event while staying safe and comfortable in their home or from anywhere really.
Each guest will be able to choose a design to be painted on a t-shirt by our airbrush artist, right in front of them.
Virtual Airbrush Events are fun and interactive.
Guests enjoy being able to converse with the artists and other guests while their shirts are being painted.
Virtual Event guests also rave about our fast shipping. Most guests receive their custom airbrush shirt within a week of the event.
Whatever event you're hosting, Airbrush Events will make it memorable!
Designs we personalize at your event...
Meet the artist and event host
Pete Marin is the pioneer of virtual airbrush events. He started airbrushing in New England over 2 decades ago.
Due to his time zigzagging across the country airbrushing for corporate events, bar/bat mitzvahs, college events, and other various events, Pete is well versed in socializing while painting.
Whether the party is held in a big banquet hall or virtually on Zoom, guests love Pete's positive attitude and engaging personality.
Pete and his wife Ana live in Florida where they both enjoy art, minimalism, and entrepreneurship.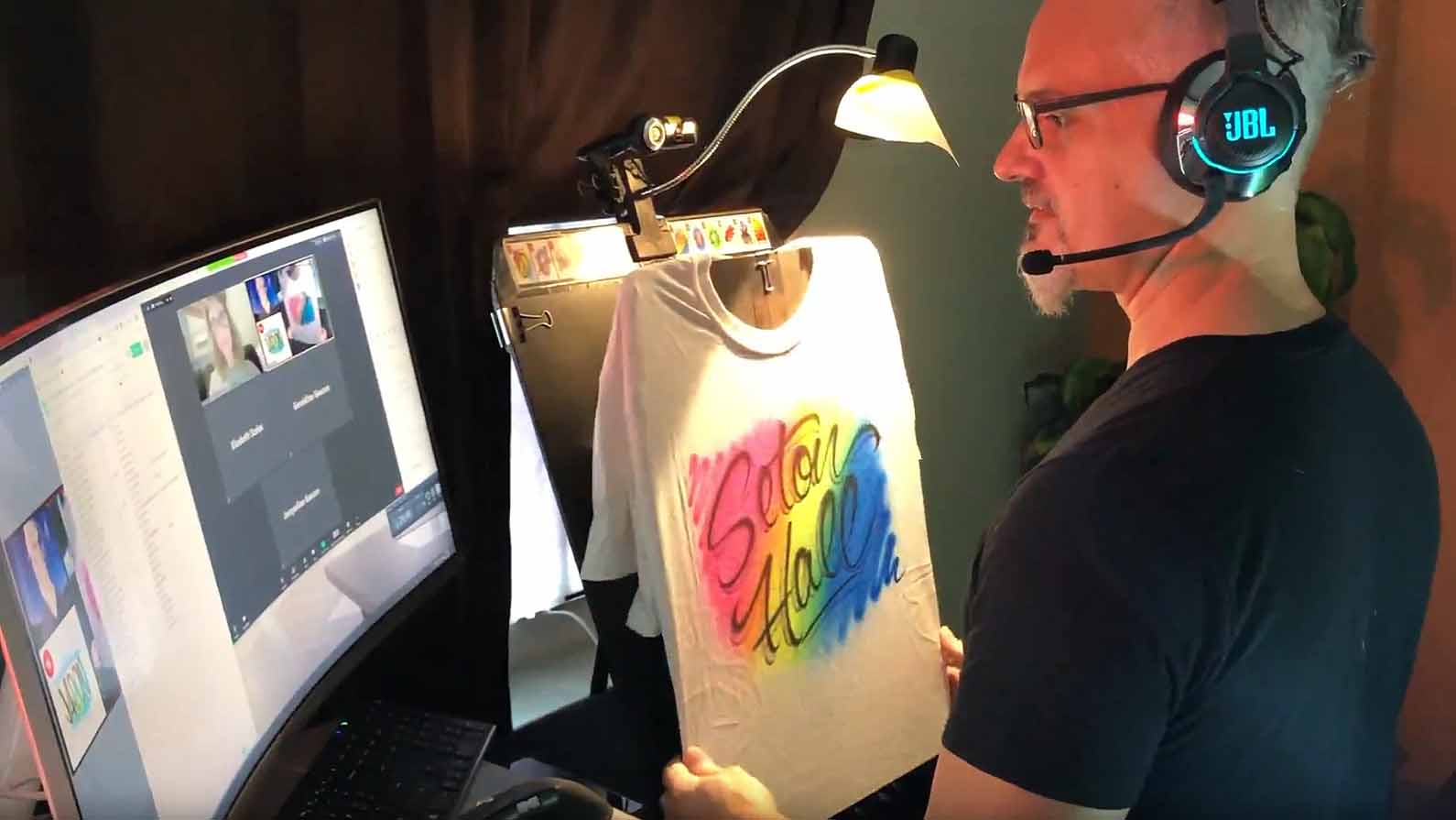 Enough from us, Pete's guest say it even better.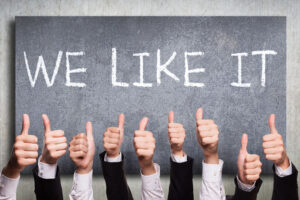 Pete did an amazing job! He was interactive with all of the students, and many students stayed longer on the call to see him design so many unique t-shirts. On behalf of myself and the Student Activity Board, I hope we have more opportunities to work with Pete and The T-Shirt Guys again in the future!
Pete was great! The virtual airbrush session at my college was phenomenal! He had great music, energy, and just an amazing artist! Totally recommend
Pete did an online event for my school. BEST TIME EVER!! He is so talented and made amazing designs.
This was the most fun I've ever had in a Zoom call! Pete did an amazing job on the shirts and was really cool and nice to talk to.
We host virtual events for...
Virtual airbrush events in 3 easy steps!
Step 1
Contact us with your event details and reserve a date and time.
Step 2
Send us a list of attendee names with their email addresses. We'll send out the invites.
Step 3
Click on a link to log in and join the fun!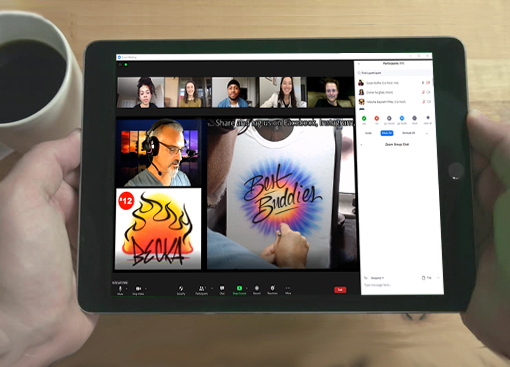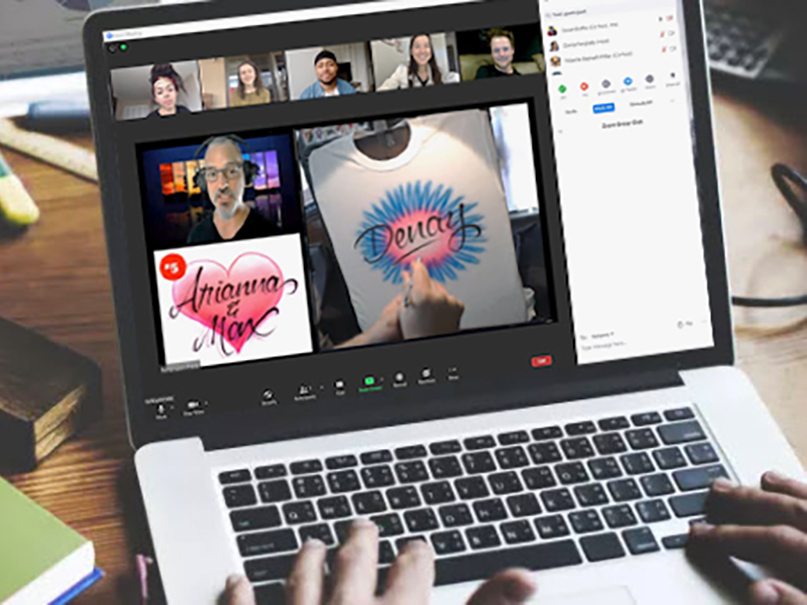 Virtual Airbrush Events can be accessed from any type of device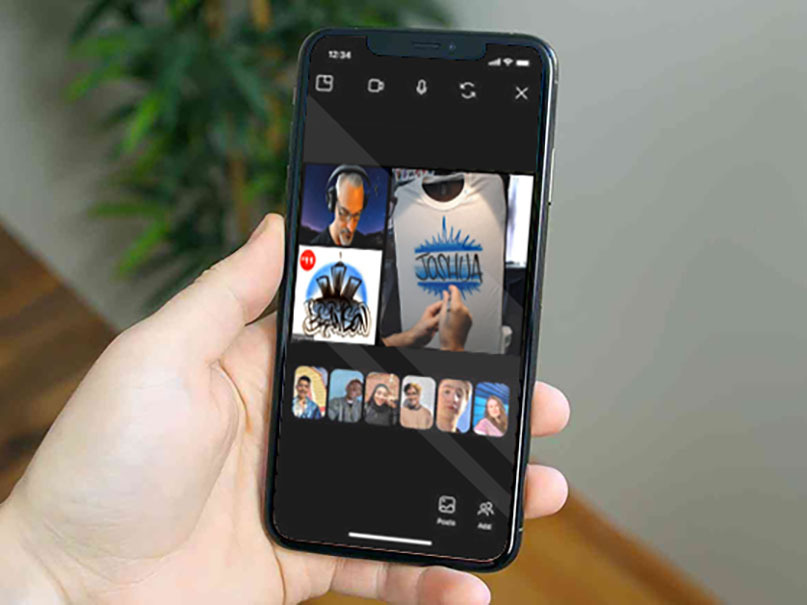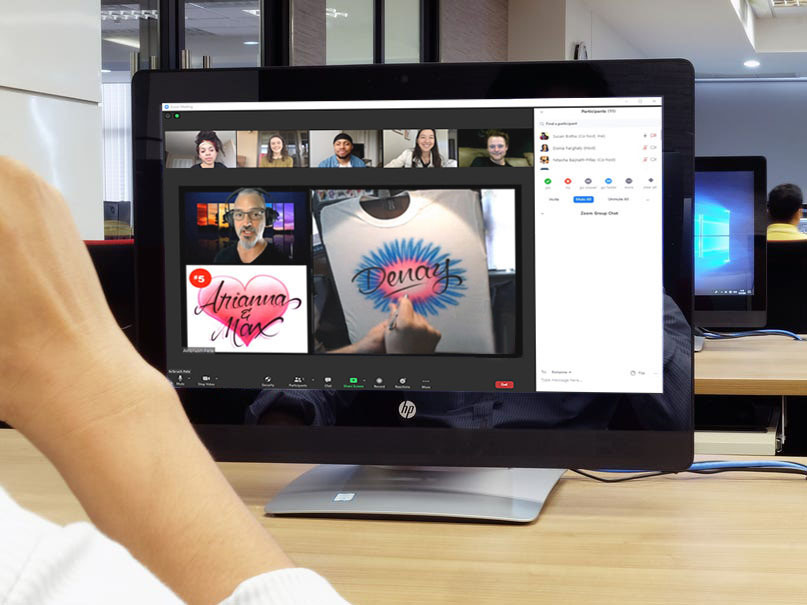 A few of our virtual events clients
Airbrush virtual events rock the house!
Engaging & Accommodating
Guests, young and old, enjoy choosing their own design and watching it come to life in real-time. Being able to talk with everyone else in the event brings social interaction in a way that even introverts can enjoy – virtually!
No location restrictions or additional cost
No matter where your guests live, bring them all together. Using the power of Zoom, even your far-away guests can join. With no travel expenses!
Easy virtual event accessibility
Joining a virtual airbrush event is easy. If your guests have an email account and a mobile phone, tablet, or a computer…they can join. No one gets left out!
We take care of all the guest invitations
Send us your guest list and we'll send out the invitations and event reminders with complete instructions on how to join, making your job easier.
Guests can socialize at the event
Guests have the option to socialize with each other and the artist either with video chat or a simple one-on-one text chat with someone privately.
We use first quality merchandise
No seconds, irregulars, or closeout merchandise here. We use Gildan Heavy Cotton™ t-shirts. Each shirt comes with a set of care instructions to ensure your guest's personalized party favor lasts many washings.
Airbrushed Tshirts are shipped directly to your guest
Once the event has ended, we individually package each guest's t-shirt and ship them directly to the guest. Their shirts will usually arrive within 3-5 days after the event, depending upon the day the event is held.
We love to party!
Sure, our artwork is important to us, but people come first. We love what we do and your guests will notice. Our goal is to make your guests' experience as memorable as possible.
Reserve your event today! Call: 727-238-7383
Still have questions?
Ask us anything!
Follow us on your favorite social platform!