One thing I hope we have all learned by now is, there's only so much abuse our planet can withstand. But 2020 has shown, when we give nature a chance, it can revive and repair itself incredibly quickly. With this in mind, let's start planning your green event with these 9 things.
I'm not suggesting you hold your event in a cave, with home-made beeswax candles and hemp rope bunting … although that sounds kinda cool.  I'm just hoping to encourage you to begin making more sustainable choices when planning your event.
Let's start planning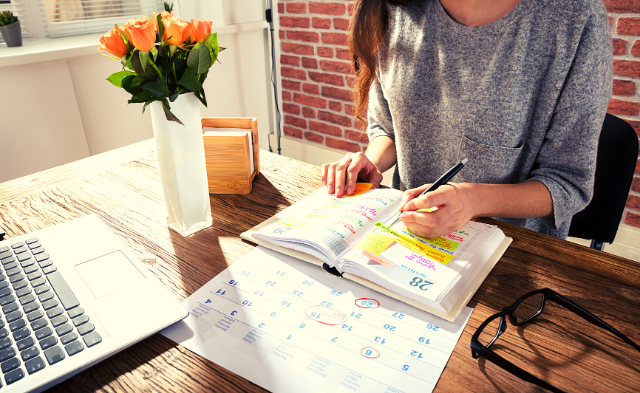 Whether you're holding a small family celebration or a large corporate event, it always begins with planning. 
At the top of your list, write, 'how can I reduce my event footprint'. Keep this question in mind as you plan every aspect of your event. Don't rely on your current knowledge, search for eco-friendly; venues, caterers, party favors, etc. You may be surprised at the range of choices available now.
For corporate events, delegate this task to an employee or group of employees.  Make it their job to keep sustainability a central part of the planning process, so it doesn't become an after-thought.
Choosing a green event venue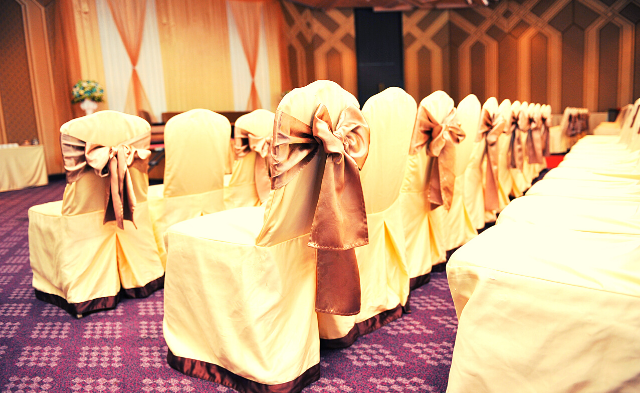 What to consider:
Are you locked into a geographic location or can you choose the location based on finding a green venue? 
Does the venue truly provide a green event space or are they just paying lip service to sustainability to attract your dollars? 
Write a list of questions to ask the venue. What are they doing to be more sustainable? Do they recycle? Are the recycle bins grouped with trash cans or can they be for your event? What about energy consumption and LED or solar lighting? Are their catering facilities using local and seasonal produce? Do they use single-use plastics? Do they offset carbon? 
Do they hold any sustainability certifications?
Transportation
Things to consider:
How close is the event venue to the main transportation hubs? 
If your guests require an accommodation, how close is the venue to local hotels and restaurants? 
Can guests walk from the venue to local hotels or use public transport? 
Consider providing free public transport tickets for guests.
Shuttle buses or carpooling can cut down on transportation. 
Recommend hotels that are close to the venue and have green credentials.
Reducing paper waste at your green event
Here are some ways to reduce paper waste at your green event:
Invitations, flyers, and event schedules can all be sent electronically. 
Print a limited number of event schedules and display those in prominent places around the venue, rather than handing out individual schedules. 
Use recycled paper for anything that does need to be printed.
Event brochures and paper handouts can be replaced with USB drives.
Use digital signage, rather than printed posters.
Reuse and recycle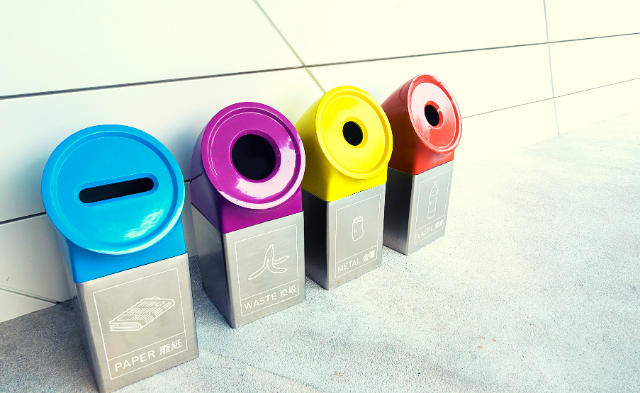 When deciding what to purchase for your event, try to replace any single-use item with a reusable one. If that is not possible, make sure it can be recycled. For example:
Select suppliers who use reusable or recyclable packaging.
Choose reusable party decorations.
Use biodegradable tablecloths and napkins. 
Table cloths made from recycled paper can be recycled 4-6 times. 
If you can't have reusable tableware at your event, opt for biodegradable. Keep in mind there are many better alternatives to paper plates now.
Make it easy for guests to recycle. Place recycling bins next to trash cans for cardboard packaging, cans, and paper. Ensure there is good signage to encourage recycling.
When choosing party favors or marketing gifts, choose reusable products. 
Locally sourced produce and services
Sustainability isn't just about our carbon footprint. There are four pillars of sustainability; social, cultural/human, economic, and environmental. When planning a green event we need to consider all four pillars.  
By choosing a menu that uses local seasonal produce, you cut down on the environmental impact while supporting the local community and economy. 
The same with your party favors. Yes, it may be cheaper to buy something on Amazon that's traveled halfway around the world but is that sustainable? Does it support the local economy or the local community?
Event catering
Things to consider when selecting a caterer for your green event.
Choose caterers with sound sustainable practices. Do they buy locally sourced produce?
Is the food packaging they use reusable or recyclable? 
What will they do with food waste? Do they partner with food donation programs? 
Provide guests with reusable water bottles and drinking water stations. 
Avoid single-use sachets (sugar, salt, coffee, ketchup, etc).
Green Swag bags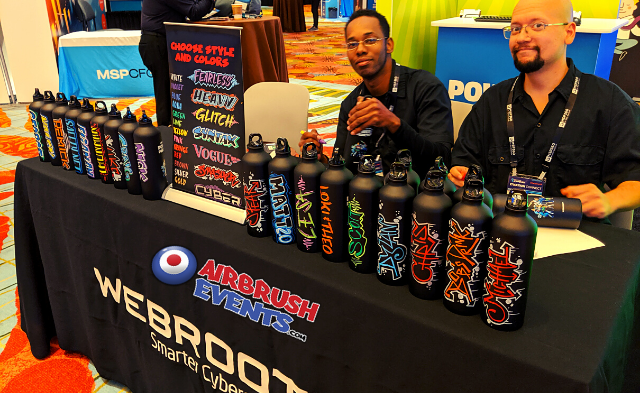 Here are just a few ideas to get you started with green event swag bags. These can simply be gifts for your party guests or eco-marketing tools for corporate events.
Reusable water bottles – check out the cool ones we did for a corporate event.
Reusable straws – whether silicone, stainless steel, or even pasta
Insulated travel cups
Recycled notebooks
Compostable tote bag
Recycled cotton tote bag
Eco-friendly USB
Wheat straw
Bluetooth speaker
Recycled PET umbrella
Solar power bank
What about an alfresco event?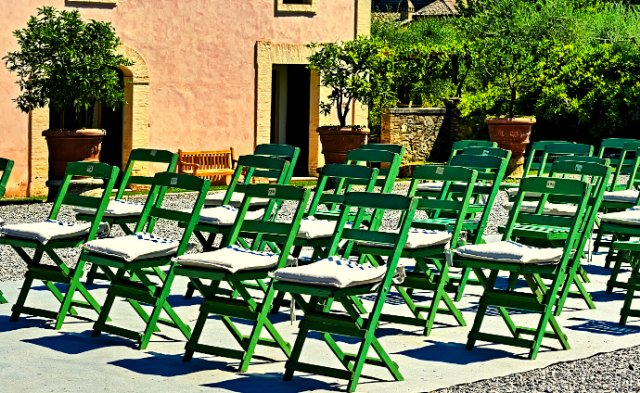 How about an outdoor event? Technology allows us to hold events almost anywhere. This can seriously reduce the electricity consumption of your event.
Carbon offsetting

All events will have a carbon footprint, it's unavoidable. One way of combating this is to buy carbon credits to cancel out your emissions. If you are having a small event consider donating to a tree-planting- program.
By popular demand
Airbrush Events entertainment is now available virtually and live. Airbrush artist for hire for all types of events including, College Activities, Bar Mitzvahs, Corporate Events, Brand Activation and More!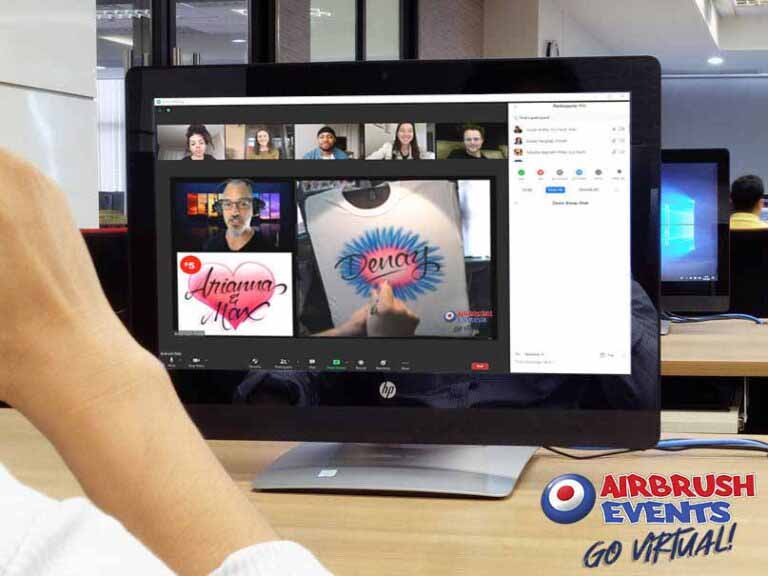 Follow us on your favorite social platform!