Doing race events are always fun. So I was excited to go the Bojangles' Southern 500 NASCAR race to paint some airbrushed tees.
I took one of my best buds and fellow airbrusher, Regis with me.
Our job was to personalize pre-printed t-shirts for Ally Financial, the major sponsor of the #48 car. A car that is driven by seven-time NASCAR champion Jimmie Johnson.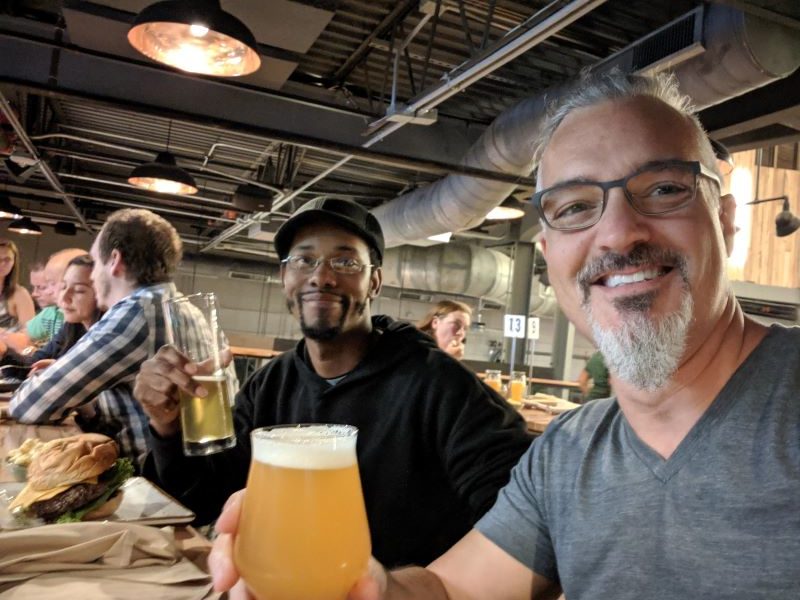 Prepping the airbrushed tees
Weeks before the race, I had airbrushed a cartoony version of Jimmie's race car. It was then photographed and digitally printed on hundreds of t-shirts. The t-shirts were given away as swag at the Ally booth where both Regis and I personalize each one, for waiting fans.
Printing the artwork on the t-shirt prior to the event was absolutely necessary as painting the car on each shirt would have taken far too long to keep up with the demand. People were happy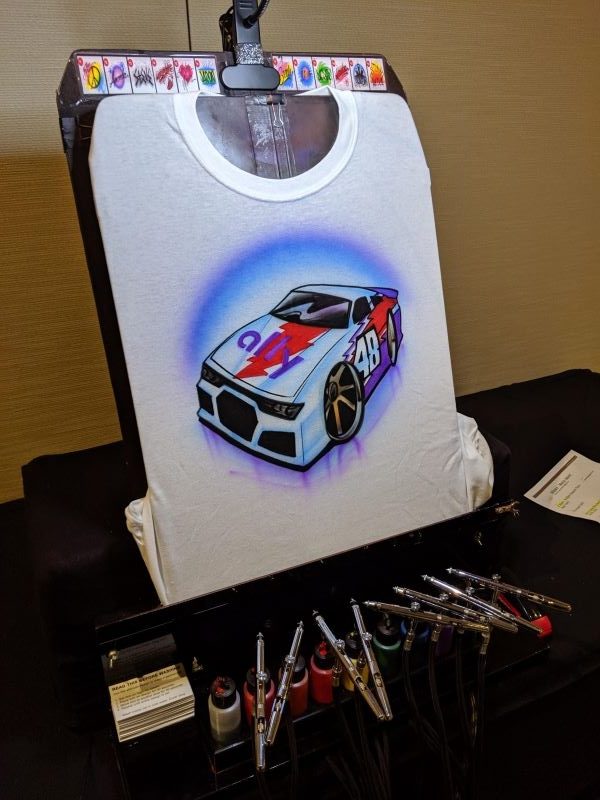 Jimmie's car and truck were on display at the Ally tent. They both featured the old school paint scheme. This made choosing the event theme easy – Throwback Weekend. These days, Jimmie's car is mostly black.
The truck is one that Jimmie used to race in the Baja 1000, a Mexican off-road motorsport race before he ever raced for NASCAR back in 95'. His brother, Jarit Johnson, actually built the truck for him.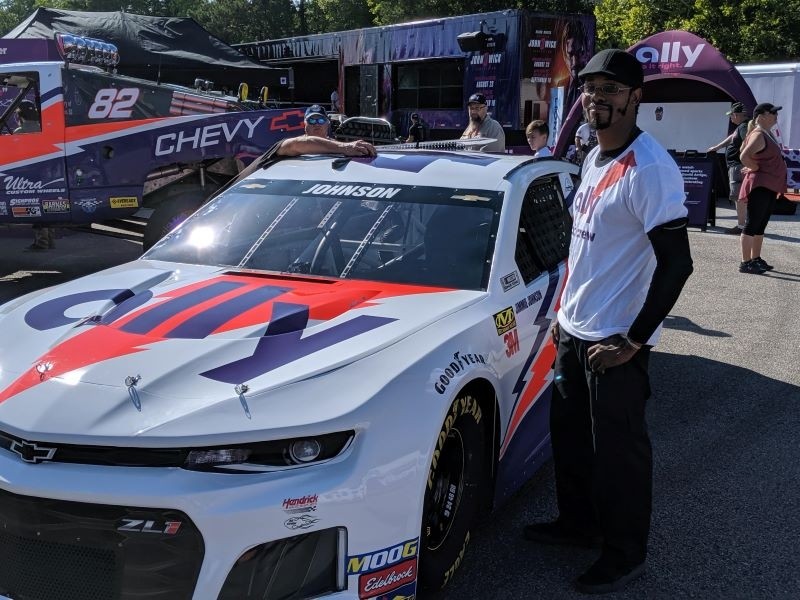 Each shirt took about 3 minutes to personalize and we did about 560 shirts in 2 days. We hustled!
Free shirts are always a huge draw for a booth but the marketing company that hired us, Nigel and Tina at MKTG, underestimated the popularity that airbrushed tees would bring. They said next time they'll hire 4 artists and not only 2.
We painted at the Ally booth on both Saturday and Sunday. Each day we were forced to cut the line early so we could finish by the time the show ended, which was right before the race and the time trials began.
Folks waited in line for up to 2 hours for the airbrushed tees but with the brand ambassadors and emcee helping out, the crowd was properly entertained. From a marketing perspective, having a long line of people waiting for your swag isn't a bad thing. The line piques the interest of people passing by. Plus the people waiting in line start getting familiar with your brand after staring at it for 2 hours.
The whole atmosphere all weekend was exciting. Even more so when the man himself, Jimmie, showed up at the booth to sign autographs. I was even excited about that!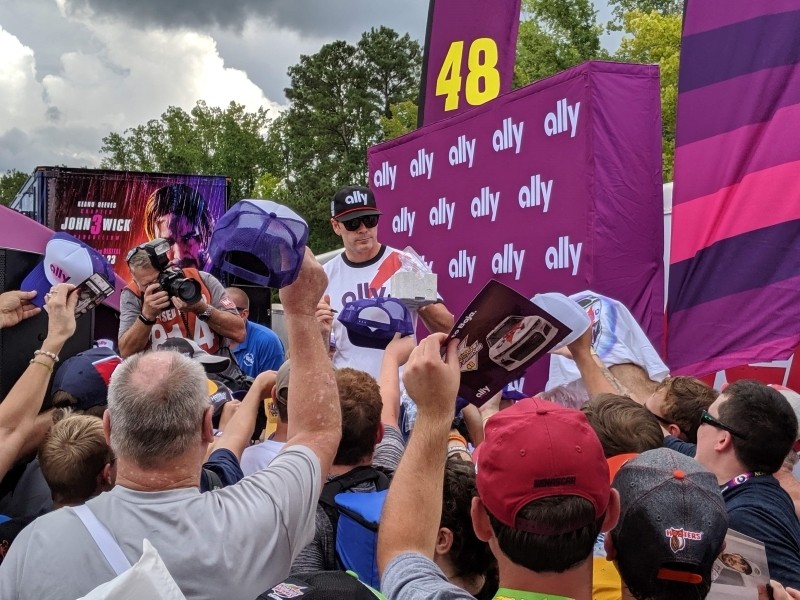 Besides airbrushing, which I love, the other thing I really enjoyed about this event was meeting other people in the event industry. I got to meet another artist that was doing a painting for Jimmie Johnson and his race team, Hendricks Motorsports.
David Arrigo flew down from Toronto to paint a portrait of Jimmie, his car and truck on a large canvas. He autographed the painting which was later raffled off.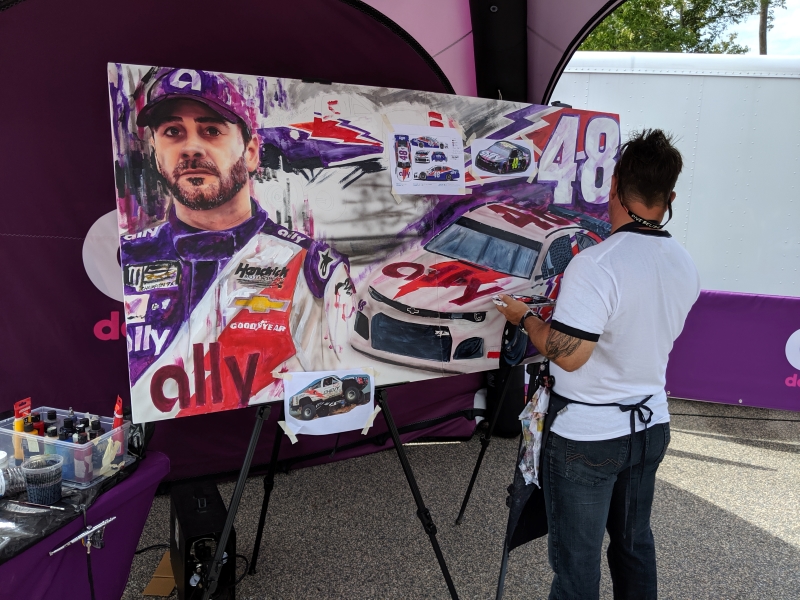 David's portrait of Jimmie blew me away. His technique of using both brush and airbrush gave a lot of detail and richness to the piece. Make sure to check out his website and see the work this guy does.
Overall it was a fantastic weekend working with awesome people. After I painted a shirt of Rutledge Wood, an NBC sports announcer, my shirt made it on live TV. Hey, I'm famous!
Do you want your next event to have long lines filled with people patiently awaiting your swag? Trust me when I say, your event needs airbrush artists. Book us today!