Customized Airbrush Merchandise for Brand Activations
Do you need to build brand awareness and loyalty around a product or service? By using live event entertainment and unique branded merchandise we drive consumer interaction with your brand.
Brand Activations need to be exciting and memorable to create a bond between consumers and products/services. Airbrush events can provide both.
Which are you most likely to remember? You attend a brand activation event where some bored college kid hands you a swag bag containing branded notepad, pen and a key ring. Or you encounter event entertainment where talented professional artists create unique personalized merchandise right there, LIVE.
Let us create a buzz at your next brand activation event by interacting directly with consumers on your behalf. Give them something to remember and unique merchandise they will want to continually interact with.
Need some brand activation ideas? Here are a few examples for you.
Airbrush Events brand activation team is right on track, literally!
Tapping your brand into events people are already passionate about is a great way to not only gain brand visibility but also to have them associate your brand with a pleasurable experience.
At one recent event, our airbrush artist custom-painted t-shirts for Ally NASCAR race enthusiasts.
The guests were excited to watch the speeding cars as they roared around the track but also thrilled to watch as our artist quickly custom-painted them their own personalized t-shirt in less than 3 minutes!
Racegoers may not get to keep the checkered flag when the race is over. But all the guests at the Ally booth went home with an awesome experience, a smile on their faces, and a personalized t-shirt they will be proud to wear for years to come.
Regardless of who crossed the finish line first that day, Ally's brand activation was a clear winner!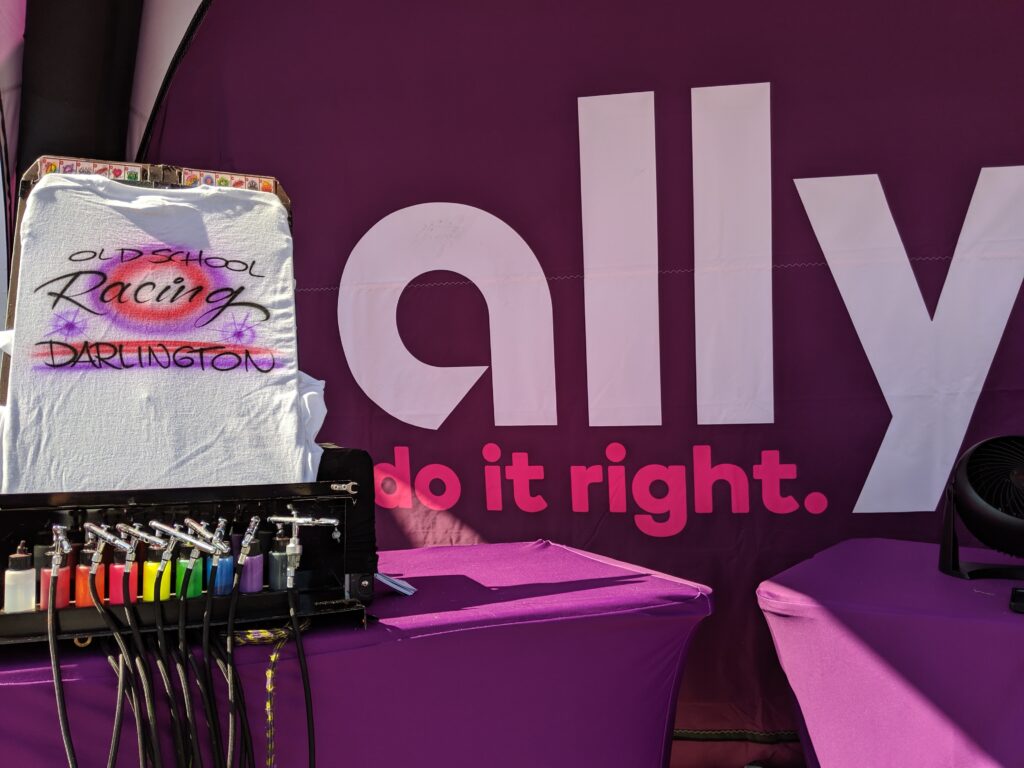 It's never been easier to promote your brand than right now!
Bud Light knows how to promote its brand by engaging consumers where they are, and doing what they love to do.
Every year football fans from all over gather to watch the Super Bowl Championship. Airbrush Events were privileged to play a part in helping fans have a most memorable experience.
We custom-painted and personalized footballs and helmets at several local establishments for fans, thanks to Bud Light.
When the last whistle blows only one football team will be victorious. But every guest who showed up to watch the game at these local businesses went home with a custom commemorative helmet or football that they'll show off and remember for years to come.
Ready to get your team in the game? Contact Airbrush Events today to schedule and make your next brand activation fun, exciting and memorable.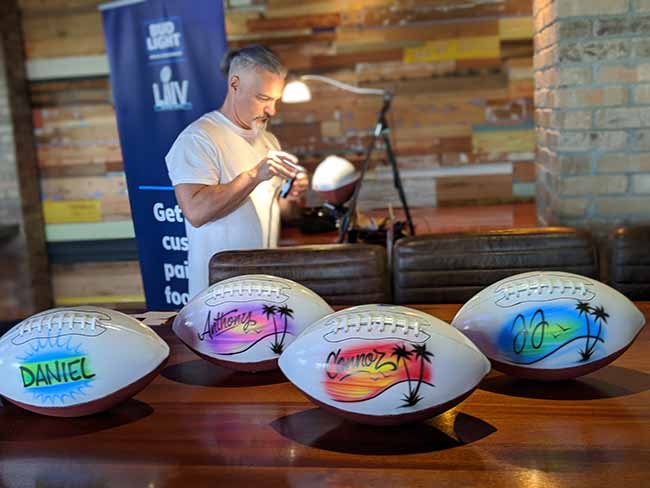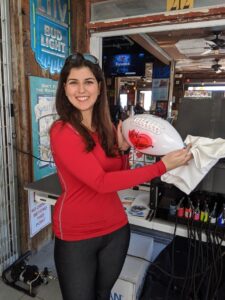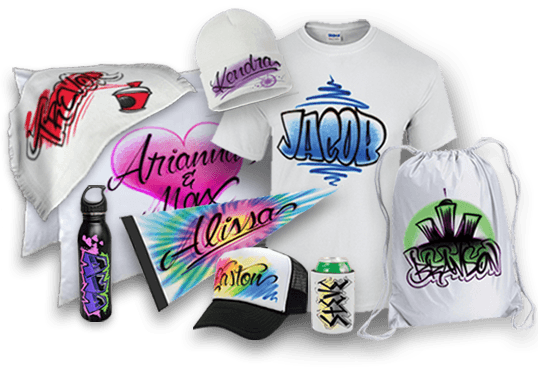 How An Airbrush Event Works
Curious how an airbrush event works? From planning the party to how each of your guests picks their party favor, this short video will guide you through the process of how we work.
Schedule Your Brand Activation Online in 3 Easy Steps!
Contact Us With Your Event Details & Choose Your Party Swag
Receive Written Quote and Finalize The Agreement for Your Event
Get the Party Started!
That's it...
What customers are saying...
... fabulous and super easy to work with!
...OUTSTANDING job! He was efficient, helpful, friendly, super talented, and honestly was the hit of the party.
The kids and the adults loved the airbrush booth! Thanks for helping to make the party a big hit!"
What You Get When You Hire Airbrush Events
You can rest easy knowing that Airbrush Events provides professional, courteous, and appropriately-dressed artists. Our artists have decades of experience and love what they do.

Each artist can paint between 20-25 party favors per hour so the larger the party, the more artists you'll need. This is to ensure that all your guests get their personalized airbrush party favors.
A Wide Array of Party Favors
Although most choose t-shirts or hats, we also have airbrushed socks, towels, tote bags, and so much more to choose from. You decide what party favors you want us to bring and we'll paint them.
Paint dries in mere minutes so your guests can don their new swag and get back to partying.
We have painted at bar mitzvahs held at synagogues, hotels, and private homes, we pride ourselves on cleanliness.
Our proprietary portable airbrush station ensures that there are never any paint smells, fumes, or overspray.
Your guest will choose their size, the design and colors they want, and personalization.
Our artist will then paint the party favor right in front of the guest while they watch in amazement; it takes less than 2 minutes.