Airbrush Party Favors for Birthday Parties
Looking for fun and interactive event entertainment for a birthday party? Look no further. Airbrush Events will produce unique personalized airbrush party favors, LIVE.
We don't just airbrush, we entertain. Whether the birthday party is live, virtual or, hybrid, we ensure your guests have a great time at the party and go home with unique party favors.
Your birthday guests choose a design and watch as our talented professional artists create their unique airbrush party favors.
If you have a themed birthday party, you can choose designs or airbrush party favors to match your theme. We can airbrush guests' names onto shirts, hats, water bottles, footballs, etc.
You choose the party favors, we airbrush them, LIVE. If your birthday party is virtual or, hybrid, we produce airbrush party favors during the party and ship them out to your guests after the event.
How it works – Watch the video
Party Favors personalized at your birthday party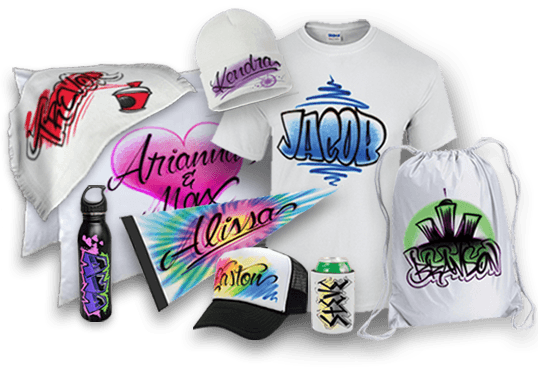 T-shirts, beanies, coolies, pendants, draw string bags, hats and more...
What customers are saying..
Pete is AMAZING! Super professional, wonderful to the children and adults at my daughter's party! Modern fun design and he's fast! Highly recommend Airbrush Events by Sure Shot!!!!
We booked a little bit later than we should have, but Airbrush Events came through and got us an artist for our event and we couldn't be happier that they did! The artist, Yariel, was amazing the entire 4 hours! Not only was his art incredible, but his speed, consistency and patience were above and beyond as well. And all this AND great pricing! You can't wrong with this company!
We've hired Airbrush Events for two parties and have been thrilled. Artist Pete Lagi is a total pro, good-naturedly managing a huge crowd of teenagers with ease. And his work is terrific! The perfect party activity that doubles as a lasting party favor.
Book Airbrush Events now to ensure it's a memorable birthday party. Give us a call today to find out how our unique personalized airbrush party favors can make your birthday party rock.